It sure is nice to see some smiles, especially as we're getting closer to El Clasico weekend. Today was day two of training for the showdown and the good news was that Benz & Pepe rejoined the squad and will be available for Sunday's match.
The club also released an update on Jese's injury, as he had his surgery today.
From realmadrid.com
Jesé Rodriguez was admitted to the Hessingpark-Clinic in Augsburg by Dr. Ulrich Boenisch and under the supervision of the Sanitas Medical Services-Real Madrid doctors Jesús Olmo and Francisco Morate.
The surgery, which was carried out satisfactorily, consisted of repairing the anterior cruciate ligament and damaged lateral meniscal in the player's right knee. The player will return to Madrid once he is discharged, which is expected to happen in the next few days.
_______________________________
He's got his mind on El Clasico and El Clasico on his mind, DLo that is. He made an appearance on El Larguero to talk about his weekend's match up and all things Real Madrid.
From marca.com
The press and fans: "I'm not hurt and I have not felt attacked; I respect the work of the press and I don't think that I have been unfairly treated. I have got used to the fact that people are expectant every time I play. This is Real Madrid and a difficult position to play in."
Barça: "The Clásico is around the corner; they are games to experience, to enjoy and to win. I have never had to suffer the situation of having Messi take a penalty in front of me, and I hope I don't. We can't let our guard down against Barça; we know the talent and quality that they have. It's going to be really hard."
Ancelotti: "Ancelotti has told me that I'll be playing; I didn't expect to play or not to play. I knew it'd be difficult to be a starter, but I believe in my chances."
Casillas: "My relationship with Iker is a good one. I respect and admire Iker, I always have. Iker has never been disrespectful to me and neither have I to him; we have a friendly, polite relationship. We have the affection of the Real fans. I haven't got a bad word to say about Iker."
Atlético: "I am partly to blame for Gabi's goal at the Calderón stadium, and assume the responsibility."
Champions League: "If we reach the Champions League final and the gaffer decides that Iker plays league games, I will respect that decision."
The challenge: "I wouldn't be content with being a substitute. My thing is to compete and fight for a place. My idea is to continue at Real, it's a great challenge for me. There isn't a better club in all the world."
La Roja: "Right now it's very complicated to get into the squad. The three that are there deserve to be."
Mourinho: "I am very grateful to Mourinho because he made me believe in my possibilities."
___________________________
How about we chase this post with a bit of Sernando? Because…why the hell not?? It was Nando's birthday and of course his boo has got to wish him a happy one! When you can't be with the one you love, there's PDA via social media…and we love you boys for using it. My only issue with Sergio's tweet is that "Bromantic partner" got shortened to "Bro"…due to lack of remaining characters, I'm sure. Say it with me, someday-ay-ay we'll be togetherrrr. I mean "they", they'll be together…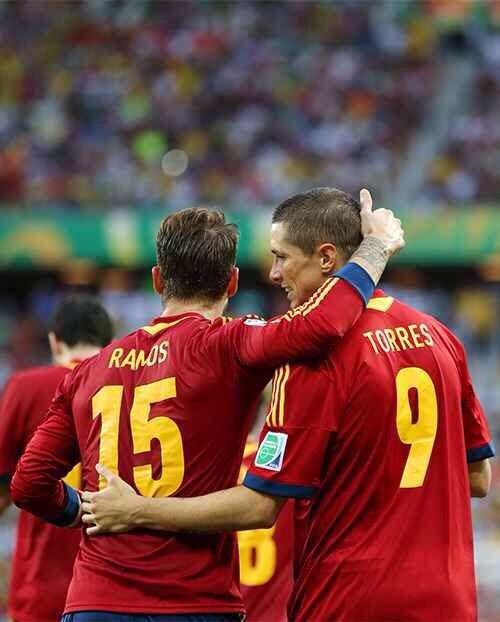 Nando also shared a pic of his lovely, freshly turned 30, face along with an adorable cake. Maybe it's because I'm hungry, but I'm seriously obsessed with that cake, it's too cute. I think I want something similar when I turn 30, except mine will be black and instead of stars it's going to feature a tombstones for each year of my twenties! 😛
-Maisougio