Well, yesterday was a bust and I'm not really in the mood to be hopeful yet….though Arbeloa is desperately trying to get us there with his motivational quotes. Then again, I'm never too down in the dumps to NOT open a post with a booty shot. Thanks Isco.
Ancelotti had 13 players working out on the pitch today, including Castilla players Quini, Mascarell, and Willian Jose. Everyone that played yesterday trained indoors.
Being a complete downer is not my style, so here I am providing you with a booty dropping dance break. You just can't do those kinds of warm ups and not expect me to Gif the hell out of them!
Go Fabio!
If we can't win the league, I propose we start winning again just to get Arbeloa to quit it with the quotes! Sorry, I told you I'm not in the mood to be hopeful yet. We better get them points on Saturday, before the man gets all Tony Little on us.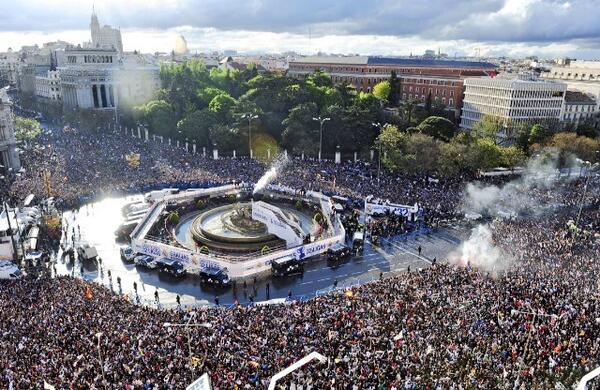 Real Madrid has got another mobile game out and Isco attended the game launch, where he chatted about all things La Liga and our point dropping situation…basically a whole bunch of shit to make you feel like shit.
From realmadrid.com
Isco was the star attraction at an event to launch the mobile phone game 'Fútbol Star' – a collaborative effort between Mahou and Real Madrid. The midfielder spoke about the team's current situation and in relation to the last match said: "It is a huge blow because it has completely changed the situation we were in two games ago. We are Real Madrid and are obliged to pick ourselves up. There are eight games left and we are confident in our ability to turn this situation around. We have already done that more than once. We came back from six points behind so why wouldn't we be able to do that now".
"The sooner the La Liga encounter against Rayo comes around the better, as it will allow us to get back to winning ways because now we are into the most intense and important part of the season".
A message to Real Madrid's fans
"This has been a big blow for them and also for us. But they should remain calm. We are still competing in all three competitions. We are going to give it our all and fight until the very end like we have been doing up until now. They should get behind the team because that is very important for us".
_____________________________________
We weren't the only ones hurting yesterday, Valdes suffered a major blow against Celta, when he tore his ACL mid-match. No matter what team you support, rivals or not, it's heartbreaking to see things like this happen to players. With this injury putting Valdes out for six months, he's played his last match for Barca and is ruled out for the World Cup. Such an unfortunate way for him to go out. He'll be traveling to Germany for surgery on Monday, to be treated by the same doctor that operated on Jese. Animo Valdes!
Embed from Getty Images
 _____________________________
There's one more day of preparing for Rayo and we'll be counting on the boys to turn this week around.
HALA MADRID!!!
-Maisougio