So much to say but quite frankly, some things about this whole episode leave me speechless or more accurately, unable to express myself with anything other than a steady stream of swear words.
I was out of pocket yesterday and unable to write about this, but I'm glad I waited because so much more has come out of this since it happened.
First off, the incident that sparked it all. An arsehole Villareal "fan" threw a banana at Dani Alves during the match yesterday. Alves, without missing a beat, picked up the banana, peeled it, took at bite and continued with his corner kick. Which was fucking BRILLIANT. I'm no Dani Alves fan (far from it), but he handled that with class and didn't let the idiot get to him. No one should have to deal with this kind of abuse and sadly, it too often happens in football (esp. Spanish football).
He joked about it later saying "I don't know who threw the banana, but I want to thank him. It gave me the energy to put two more crosses in for our goals." He also quipped that his dad always told him to eat bananas because they prevented cramps. While he laughed it off,  I think it's complete and utter bullshit that these incidents continue and rarely make it into the ref's report. Alves, Neymar & Pepe were all racially abused at the Copa Del Rey final, but nothing went on record about it. With all the press this has gotten, let's hope it did this time.
His Barca & Brazil teammate Neymar took to Instagram saying "It's a shame that there's such prejudice in 2014. It's time for people to raise their voices. My way of expressing my support is to do what Dani Alves did. If you think so too, take a picture of yourself eating a banana and we will use what they have against us to our advantage."
"We are all equal, we are all monkeys, say no to racism"
He included a picture with his adorable son Davi Lucca with bananas and the hashtag #weareallmonkeys
(By the way, people did take him to task in the comments about Barca teammate Busquets calling his Brazil teammate Marcelo "mono" and asking how he felt about that. Neymar wasn't at Barca at the time of the incident, but Alves sure was and defended Busquets – I haven't forgotten that. Just sayin')
Others players quickly posted shots (here's just a few):
David Luiz, Oscar & Willian
And two players who have suffered greatly from racist abuse in their careers, Roberto Carlos and Mario Balotelli:

Fans worldwide joined in, football pundits, etc. It's really great to see people being so supportive and hopefully it will bring more attention to the issue. I despair of anything official ever being done though. FIFA, UEFA, RFEF – the ball is in your court.
And then came this, which made my head explode and my blood boil. Philipe Coutinho posed for a shot with a banana along with his Liverpool teammate Luis Suarez.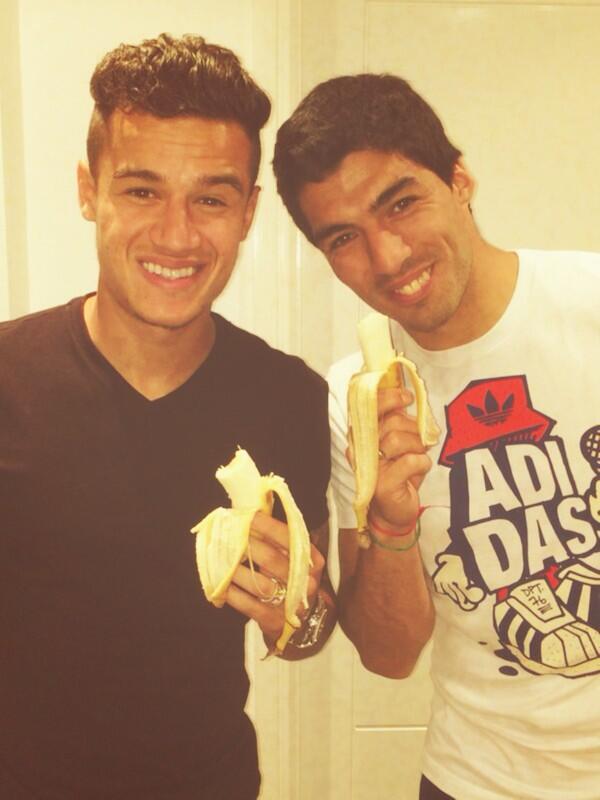 You know, the Luis Suarez who was given an 8 match ban for racially abusing Patrice Evra. That is just fucking RICH. This is when I lapse into full on incoherent swear-y babbling.
Just seeing his shit eating grin in this photo made me want to punch him to infinity and beyond. Who is next? John Terry? At least he had the good sense to stay out of this. I swear to fuck if Busquets poses for a banana photo, I will lose my shit.
I have no interest in re-opening that can of worms discussion as to whether or not people think Suarez racially abused Evra. The FA deemed him guilty and saw fit to ban/fine him for the incident.
And for those out there who are saying, "Oh he did his time" or "He could have changed" Okay, fine, points taken. But you know, sometimes it's better to just keep schtum. If Suarez is so all fired up about having the world joining hands and kumbaya-ing in racial harmony, let him make a damn donation to a charity that supports education and tolerance.  His utter cluelessness as to how this would be perceived feels like a smack in the face. I can't even. No. Just NO.
I know there will be people out there who don't agree with me and see this as a positive step forward for Suarez, I respect that. If this works for you, fine. But it really, really doesn't work for me. At all.
Let's just hope that the idiot who threw the banana at Alves is found and punished. That would be a good start. The support is positive and the intention/attention is definitely appreciated but there has got to be official action in tandem with that. People have to be held accountable for their actions. (UPDATED: I missed the news (because I was in meetings most of the day) that the fan has been found and banned for life. GOOD.)
– Lozil