Saturday was an all-around great footballing day, wasn't it? I managed to watch each game at a different location in-between errands and appointments. If I had planned my day to work out the way that it did, I likely wouldn't have even made it out the door. Truth. I'm lazy like that.
Anyway, let's talk about the important stuff and catch-up with the Group D contenders:
Costa Rica
Allow me to present the current leaders of Group D: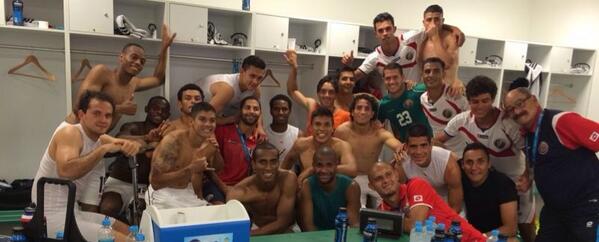 Goals. Tablets. Navas saves it all. Even the neon green decor.

Teammates Borges and Gamboa working it out
Bolaños and Campbell posted a few street shots from the team hotel in Fortaleza
Celebrating Borges' birthday during training camp.
There is serious training going on, I swear
Oh, and the single most important point you should know about Joel Campbell's goal? With it, he (21) surpassed Neymar (22) as the youngest player to score in a World Cup. Can I get a woot woot?!
Italy
How about this for a statistic?
Wow, that is crazy and unexpected.
Post-match selfie with Marchisio and Balotelli
Balotelli capturing the beauty of Manaus on the trip home
http://instagram.com/p/pRqutQrj6K/
http://instagram.com/p/pRq1EwLj6a/
Here's a write-up of Sirigu's press conference today. He apparently caught the journalists off-guard by being light-hearted and jovial, with comments like this:
…We also have basketball games; De Rossi thinks he's really good but he isn't, he loses to Perin pretty much every day. I like saying that, because the other day he beat me and he took the mick out of me for it, so saying he's rubbish here is priceless!"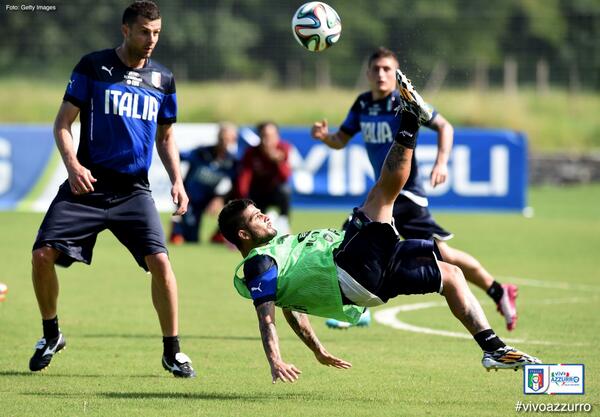 And would it be Italian football if there was no political drama? Whereas the Costa Rican President was out and about, smiling and shaking hands with fans in Washington, the deputy speaker of the Italian Senate was making friends with 140 characters or less:
Courtesy of The Telegraph:
An Italian politician faced a backlash for posting an expletive-laden tweet mocking England after their defeat to Italy in the World Cup.

Maurizio Gasparri, the deputy speaker of the Italian Senate, posted the tweet almost immediately after the football match in Brasil.

"It's always a pleasure to say, go… themselves' to the English, pretentious and d****," he tweeted. It was retweeted 130 times.

Minutes earlier he labelled the English "always arrogant and obnoxious."

Mr Gasparri faced calls to apologise on Twitter, but he remained defiant, later posting 'Detestable English, is that OK?'

A columnist for Wired Italy suggested the politician should be banned from Twitter.

"After the insults toward the English – calling the foreign minister, journalists, ex-ministers and everyday citizens 'pricks', it would be appropriate to take Twitter out of his hands for awhile," David Allegranti wrote. "For his own good, and also for ours …"

This is not the first time Mr Gasparri has faced criticism for his outspoken views. Shortly after Barack Obama was elected as President of the US in 2008, he told Italian TV that with Obama in the White House "al-Qaida is happier",

Earlier this year he was indicted for allegedly embezzling 600,000 euros to Silvio Berlusconi's now-defunct People of Freedom party.
*head shake*
England
Hodgson endured a marathon press conference after the Italy match, and unleashed this wisdom unto us all:
Roy: "You don't win your next 2 matches if you win the 1st, and you don't necessarily lose your last 2 matches because you lost the 1st."

— England (@england) June 15, 2014
Sturridge offered sage advice:
Smile through the pain. #hardtotake #my1stworldcupgoal #thanksGod #happybdayMom #gutted pic.twitter.com/SzdQKB6g37

— Daniel Sturridge (@D_Sturridge) June 15, 2014
Happy Birthday Danny's Mom!
The team headed back to camp and started getting ready for the next game.
Wilshire shared a little video of the fans outside the team's hotel
And a photo of his little fans back home
Sturridge making friends with his fans
And taking care of his most pressing business
The Football Association (FA) President Greg Dyck joined a group of England fans on a visit to where the Rio Solimoes and Rio Negro rivers merge into the Amazon. Due to the rivers' different densities and acidity levels, the merging covers a distance of about four miles until they are one big, happy family.
Uruguay
With the loss to Costa Rica, the majority of the talk focused on whether Suárez would be fit for the game vs England. There was some drama (of course!) when people started saying that he was fit for the Costa Rica game. No confirmation on that front, but word is he is a-okay for England.
What say you, Luis?
Lugano may not have been at his best during the game, but he did win the best dad award.
And he sure made a young fan's day earlier during training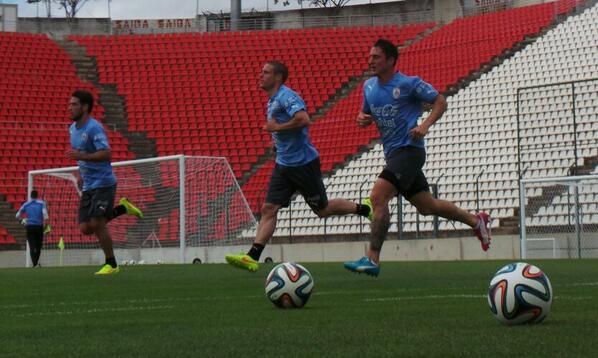 – hopechaser (twitter: hopechaser11)