"Smile though your heart is aching; smile even though it's breaking." I tried, Nat King Cole. I really did. *sniff*
This was match was……distressing……in many ways. It wasn't the best played game at this World Cup. Hell, it wasn't even the best played game by either team at this World Cup. It was Italy's game though, with a draw right to the end. And, well, we all know how it turned out from there. *sniff*
Before I go on, please allow me to apologize for the lateness of this post. Emotional Italian Azzurri fan = angry, expletive-riddled rant. Perspective was needed to coherently write up my notes. So with gratitude I thank our leader Lozil for allowing me extra time to gain that perspective, or at least a toned down, PG version from what it was a few days ago.
Italy: –
Uruguay: : Godín, 81′
Lineups
Italy: De Sciglio, Chiellini, Barzagli, Balotelli, Bonucci, Buffon (C), Verratti, Marchisio, Pirlo, Immobile, Darmian
Uruguay: Suárez, Muslera, A Pereira, Giménez, Godín (C), Cavani, Rodríguez, Ríos, González, Lodeiro, Cáceres
FIFA Man of the Match: Buffon, ITA
HB&HB Headband of the Match: no one earned it
Pre-Game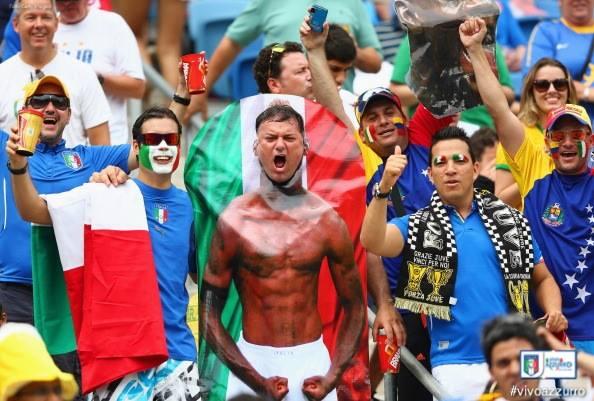 First Half
One last anthem sing-along for one of these teams. I so adore how involved and concentrated Buffon is when singing. Just look at the concentration. He just gets it, you know? I'd follow him into battle, any time, any place. Oh captain, my captain!
*cough* Moving right along…
1′, Baletolli foul on Rodríguez. Raise your hand if you thought 'bad Balotelli' might make a showing this game. Just me? Okay then.
Cáceres didn't really appreciate that foul so he took off and pulled a decent shot which Buffon was able to block. Just before the 2′ mark, Balotelli broke through the middle and was duly man-crushed between Rodríguez and Ríos. So intense was this tackle Balotelli bounced Dios off the back of his legs to the ground.
Balotelli himself hobbled for a bit clutching his knee but was okay to continue. Rodríguez decided then to just knee Pirlo down over at the touchline. Not cool. Italy won another free kick one minute later with a Suárez hip-check challenge on Chiellini.
I repeat, at 5' Suárez fouled Chiellini. Then Barzagli fouled him. Tit for tat. Tat for tit. That's how this game was going to play out. No one was safe.
Suárez pulled off his first shot on target via a free-kick. Buffon telegraphed the bending strike and punched clear. González followed up with a shot which De Sciglio blocked. The ensuing scramble resulted in Chiellini being elbowed in the face by González. Down he went, clutching his face.
Foul, Uruguay. Foul, Uruguay. Foul, Italy. Foul, Uruguay. Foul, Uruguay. Signs people, they were everywhere in the first 10 minutes.
Pirlo's first free-kick at 11' didn't clear the line and Uruguay came back on the counter. That ended in Lodeiro committing a foul and an Italy free-kick. Pirlo stepped up and unleashed a power shot which Muslera just managed to push over the crossbar. Then Bonucci gave Muslera a hug in congratulations.
Balotelli got his frustrated face on when he couldn't catch a long ball powered up to him. Some balloons decided to crash the pitch at this time. No big deal to the players but I was slightly distracted. And also by this:
Uruguay on the attack sent the ball to Rodríguez who teed in a pass to Cavani who attempted to cushion a header into the box. Personally I found this one of the highlights of the match. He ran up, stopped dead on the edge of the box and just let the ball just 'boink' off his head.
A free-kick to Italy at 18′ amounted to little, other than Prandelli smoothing down his one errant hair. Some more pressure from Italy, then Uruguay surged forward with A. Pereira looking for Cavani. But Cavani slipped on his first touch and the ball went out. Suárez got the next shot but Bonucci was there to block.
Immobile chested a nice pass over to Balotelli, whom Cáceres decided he would try to jump over. Unsurprisingly, he managed to hurt himself in the process.
Then at 22′ Balotelli thought he'd one-up Caceres by flying in for a late challenge on A. Pereira's head. Literally, flying in. He is Super Mario, after all.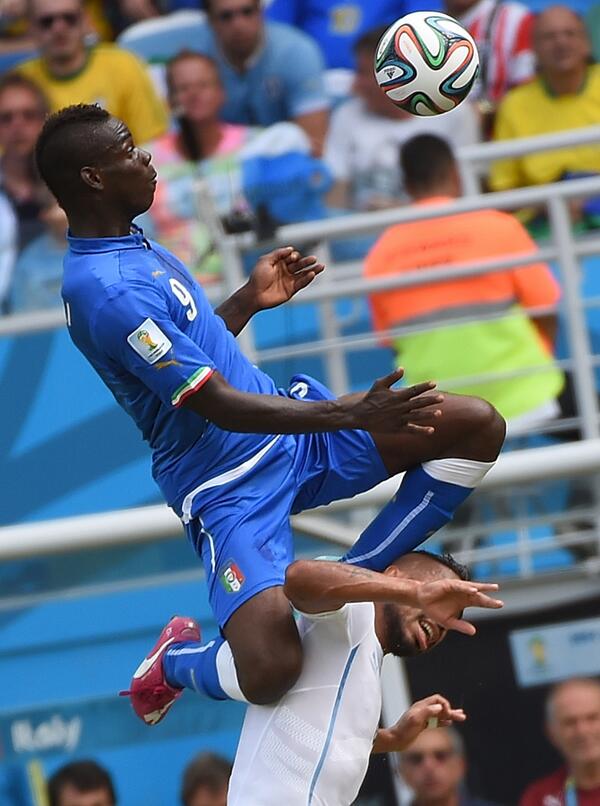 Silly challenge, and he was rightfully awarded a yellow card. This meant he would be suspended for the next game. Also, you may remember A.Pereira was the player knocked out during the game vs Costa Rica. His head seems to be a magnet for collisions and (possible) concussions.
Marchisio, who had been relatively quiet to this point, decided to take a shot from a good 25 yards out. Godín blocked. Another player relatively quiet to that point, come to think of it. Barzagli got the next shot and it was also blocked by Godín.
At 26′ Immobile made a nifty play to open up space for Balotelli to play him in. Balotelli decided on the long-range shot instead and the ball went well wide of the target. Verrati then showed a little dazzle in the midfield with a marvelous dribble to setup Marchisio.
Immobile got another chance at goal at 29' when a deflected cross came his way. Unfortunately he only managed to send it high over the goal.
Cáceres continued imposing his physical presence by downing Balotelli on the touchline. Right in front of his manager. A quick word and a slap on the back from Prandelli and he was back into the action.
A good pass from A. Pereira sent Suárez through on goal at 33′. Buffon rushed the play and blocked the shot. The ball then dropped to Lodeiro but Buffon was able to stop, drop, and roll to clutch the ball with the aid of De Sciglio's chest. Nervy moment.
Meanwhile, Balotelli had been fouled at the start of that play and was down on the Uruguay side. Godín had gone up over him to head away the pass which started the Uruguay attack. A stretcher was brought out but Balotelli made his way off the pitch under his own steam. Emphasis on "steam".
Oh, the balloons made a return at this point, just drifting around the far end of the Uruguay half.
A positioning mistake by Buffon saw Cáceres decide to take a shot from his own half. His attempt to catch Buffon out was cheeky but went well wide of the goal. Way to test your club captain, Cáceres! No idea what Buffon was doing there.
Suárez and Pirlo came together near the centre half around 38′, with Suárez coming up behind Pirlo and getting a face full of his arm for his efforts.
My thoughts too, Pirlo. Oh, and please note the part of the face Suárez is holding here. His right cheek and right eye.
Great passing through the midfield saw Lodeiro tee up Cavani on the edge of the box, but a poor first touch gave the ball back to Italy. Italy then sparked an attack with Pirlo passing to Balotelli who released a great ball to Immobile down the right. But Godín laid down an equally great tackle to stop the counter.
One more free-kick for Italy and for Uruguay before the half, neither of which producing the goal each team didn't really seem to want to score.
Chiellini and Cavani wrestled a bit in the box. Chiellini went down holding his face, again. Half time whistle.
Second Half
Twenty-four fouls were committed in the first half of this game. The most in any full game at this World Cup thus far. In case you were wondering why this match report was, well, talking a lot about fouls.
Both teams made changes at the start of the second half. Uruguay brought on defender Maxi Pereira for midfielder Lodeiro, and Italy changed Balotelli with midfielder Parolo.
Ríos was booked at 46′ for a hard challenge on Verratti. Cáceres and Parolo came together the next minute, with Cáceres left prone and winded on the ground. Verratti took that time to snatch a water bottle from the Uruguay trainers under the watchful eye of Cavani. And quick shot of the bench showed a sad and disappointed Balotelli. No one needs to see that.
At 51′ Marchisio caught Rodríguez with a high boot to the middle. Suárez sent the resulting free-kick right up into the stands. Suárez won a free-kick at 52′ which he shot wide of goal again. A good run by Immobile unfortunately saw the forward flagged for offside.
Play forward by Uruguay at 54′, and Cavani was dubiously held in the box by Bonucci. Cavani lobbied for a penalty but no dice. Or no ball.
And speaking of ball(s), Verratti took a close-range shot right in the groin during that play. To his credit he got right back up, chased A. Pereira down, and stayed with the play until the whistle blew. Then he almost keeled over. Which, quite frankly, most of us probably would have done that right away. Am I right? He's got some, err, balls on him.
Uruguay had a great chance at 57′, with Rodriquez teed up by Suarez on the left, but he shot it wide. Again. That was the first real chance in the second half. Both teams were playing tight.
Then at 58′, Marchisio ended up going over the ball and studs up on Ríos in front of the referee. Red card. Italy down to 10 players.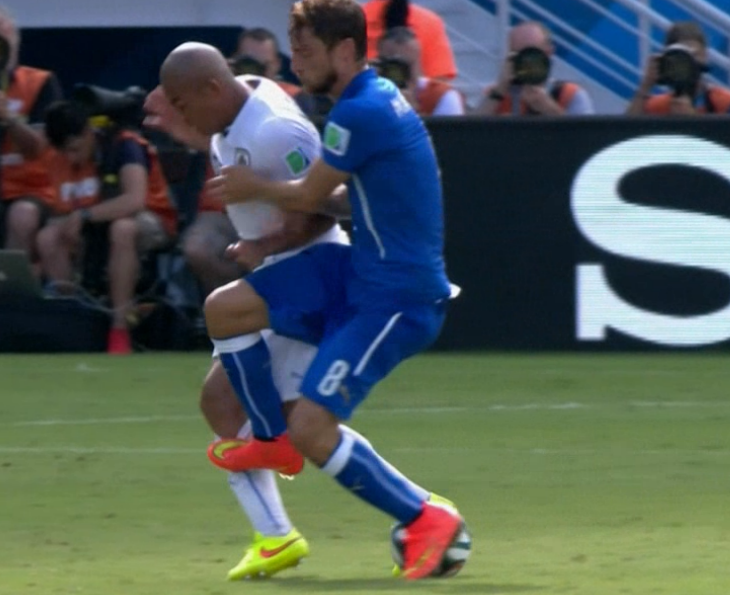 This was the first red card for Marchisio, ever. Buffon didn't like it, and was probably lucky he didn't get a yellow card himself.
Off to the tunnel for Marchisio after a snuggle with Prandelli then Aquilani, with a look of disbelief still etched on his face. Tough break but the right call.
Uruguay made their second substitution at 62′, with forward Stuani replacing A. Pereira.
Italy attempted an attack via a long ball to Immobile who did well to hold up the ball. Then Pirlo sent it into the stands. At 66′, Cavani made a great move to get into the box only to collide with Parolo. The resulting loose ball fell to Suarez who broke through the defense and unleashed a quick shot.
Uruguay kept the pressure up but Italy were able to clear. Pirlo completed a wonderful through ball for Immobile who just couldn't get to it before being tackled by Giménez. Italy were starting to get back into the game after losing momentum with Marchisio's sending off.
Case in point, Verratti pulled the defense away then threaded a perfect pass to Immobile. Except…Immobile was offside and appeared to be suffering a leg cramp. Just not his day. Prandelli thought the same, and substituted him at 70′ for forward Cassano.
And at 72′ Verratti went to make a pass and his leg collided with Cavani's on the follow-through. He immediately dropped clutching his calf and calling for the referee. The referee stopped the play to get him checked out. But you know who wasn't buying the distress and complained of time-wasting?
Suárez immediately charged the referee claiming time-wasting in order to stop their counter, and Godín was right there with him. In fact, there were five Uruguay players surrounding Verratti while Bonucci tried to help out with the cramp. But the most obnoxious part of all this? Rodríguez hurrying the medics across the field with the stretcher and the Uruguay fans cheering him on.
With Verratti unable to continue, Prandelli sent in midfielder Motta to take his place. If Italy were going to make it through the match it was going to be on the backs of their older players.
Play back on. De Sciglio decided to foul M. Pereira and received a yellow card at 77′. Uruguay made their second substitution the next minute, with midfielder Ramírez coming on for Rodríguez.
Italy set out on an attack with Pirlo intercepting a pass, shipping it up to Cassano who then sent a great cross over the top to Parolo. Muslera got to it just before him, and sent Uruguay back on the counter. That attack ended with just, oh ya know, a little dust up in the box off the ball.
Chiellini running around afterwards trying to get the ref to look at his shoulder was confusing. Ramírez running after Chiellini in order to pull his shirt back up was "WTF"? Suárez diving then holding his TEETH was incredulous. And Chiellini not running over to the bench and having someone take a legitimate up-close photo was frustrating. And that pretty much sums up my mental state at the time.
Kinda feels like your watching the World Cup's equivalent of the Zapruder film, right? Instead of "back and to the left," it's "down and to the right; down and the right."
No harm, so no foul. On went the game, and Uruguay then called for a hand ball against Chiellini when a close-range shot whacked his arm. They didn't get it, and rightfully not. They did get a corner kick though, and with that at 81′ Godin back-headed the cross past Buffon to take the lead.
Someone will have to explain to me one day why there were only two blue shirts in the mix and why one had their feet firmly planted on the ground.
If you were upset with the preceding events, well, an Italian assistant coach was none to happy either. Words and finger-wagging broke out between the benches, and Uruguay manager Tabarez had to restrain him. The fourth official called the referee over and he sent the assistant coach to the stands.
Pirlo's free-kick at 84′ went just wide of the goal. Italy weren't giving up. Suárez attempted an attack but was easily thwarted by Bonucci and Chiellini. De Sciglio and Motta completed a great interchange of passes just outside the Uruguay box, but the last pass was just behind Motta. Italy were increasing the pressure now.
Cavani latched on to a loose ball at 88′ and wonderfully released Suarez on a one-on-one with Buffon. Suárez interestingly hesitated and Bonucci was able to get back and block the pass. Feeling some guilt, some shame, perhaps? The hesitation was a very un-Suárez-like move. He tried again to get past the defense but the ball was cleared.
Italy countered, with De Sciglio sending in a fabulous cross through the box but Darmain just couldn't get to it. Another attack with Cassano getting a pass into the box but no blue shirts there to grab it. Again, not giving up.
Five minutes of added time. Muslera was booked at 91′ for time-wasting.
Italy put on another great display of tikitalia outside the Uruguay box and once again the final pass failed them. Uruguay tried another attack and M. Pereira was almost through on goal but he was blocked at the last minute.
Lots of tired legs now with the end-to-end movements. Another Italy attack with Cassano coming close. Uruguay came back, and with Buffon off his line, Suárez sent the shot well wide. One last free-kick for Italy at 95′.
Final whistle. Three points to Uruguay and a spot in the round of 16.
A total of 39 fouls were committed in this game, with 1 red and 4 yellow cards. Physical.
Were Uruguay the better team during the match? Commentators all said yes, because Uruguay won. Uhhh, okay. How they won, though, is where many could arguably disagree they were better. It is more plausible the teams shifted the "better team" title back and forth throughout the match. Neither really took control for any great length of time.
Uruguay had a difficult time breaking through the defense, even when Italy went down to 10 men. Cavani and Rodríguez were always in the hunt and played a solid game. Ríos kept Uruguay's presence strong in the midfield.
For Italy, Verratti's substitution could be viewed as the final sting of the tail. He was lively throughout the game creating plays all over the place. In fact, he completed 100% (31) of his passes in the first half. With Marchisio, Balotelli, and Immobile already off, losing another vitality player just made playing for the draw even more deliberating.
As for Suárez, well, it is difficult to buy that it was accidental, that he lost his balance. The video shows him running up behind Chiellini, then bobbing his head forward onto his shoulder without the involvement of any other player. There was some deliberation and the action did what the perpetrator intended it to do: disrupt Italy's focus even more than it already was. Chiellini and Bonucci had marked Cavani and Suárez hard from minute one and that frustration built to a boiling point for Suárez. He needed to release it the only way he seems to know how. Those who watch Chelsea will be reminded of how similar the "frustration" circumstances in this game matched the one involving the Suarez / Ivanovich encounter.
And Suarez' argument he ended up with a hurt cheek and slightly bruised right eye from Chiellini? Well, where do photos show Pirlo's arm hitting Suarez earlier in the game? On the right side of his face. If there was a bruise there, it may have already existed. If the evidence doesn't fit the narrative then the punishment must fit the crime.
My balloons!
At the end of the day though, two great football countries came together and only one could be the victor. The score line was in favour of Uruguay this time. We must not let the poor actions of one overshadow the good work put in be the rest of the Uruguay team to get the win. On to the knock-out stage!
– hopechaser (twitter: hopechaser11)