Has everyone heard of the #StandUpWorldCup campaign already but me? Am I the Mindy Kaling of the World Cup?
The campaign is the work of English anti-violence organization Tender, who work "to promote healthy relationships based on equality and respect." They launched it back on May 29 with a viral video which I watched this morning and found quite powerful. Just watch the woman's eyes.
Tender released the following statement along with the video:
Though research on the rise of domestic violence during the World Cup is relatively new and for lack of a better word, sparse, the trend is alarming and impossible to ignore. The weather is getting warmer, more drinks will be consumed, emotions will be heightened, and none of this excuses violence. We ask that individuals and organisations to stand together this World Cup season and say 'No excuses'.

Remember, it doesn't matter whether your win or lose. There are no excuses for domestic violence.
I did a little sleuthing and found via The Guardian that the 38% statistic used in the video comes from a recent Lancaster University study. This study analyzed reports of domestic violence in England during the 2002, 2006, and 2010 World Cups. Criminologist Dr Stuart Kirby found that violent incidents increased by 38% when England lost and rose 26% when they won.
The Lancaster University study also reported domestic violence rose in frequency at each new tournament. Police across England used this information to deploy additional resources and initiate area-specific campaigns to try and disallow that prediction from becoming a reality.
According to The Guardian article, Lancashire put up billboards in Blackpool, Preston, and Blackburn with the tag line: "Leave the striking to the players." Bus shelters displayed the following posters: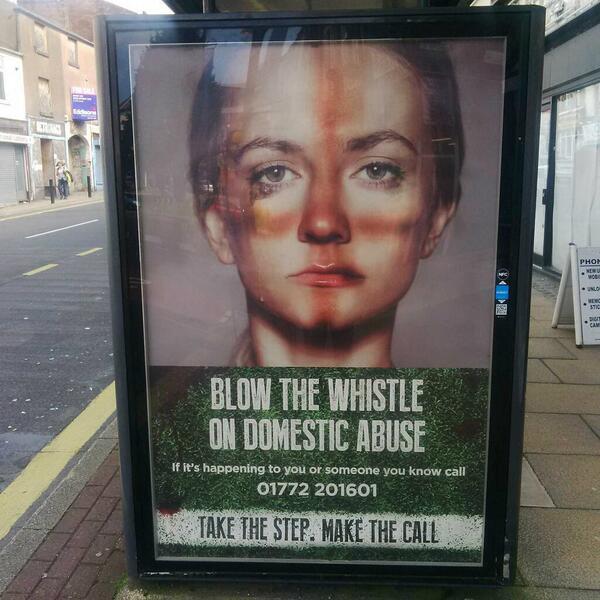 It remains to be seen what the domestic violence statistics look like at the end of the World Cup, and if the campaign made a difference. Regardless though, I heartily applaud Tender and England for making strong efforts to curb the violence and to alleviate some of the fear and shame thousands of individuals endure everyday in abusive relationships.
– hopechaser (twitter: hopechaser11)