*Loooooong exhale………..*
Everyone said this game would be a blowout. Experts all said Costa Rica had no chance of winning. 4-0 Netherlands. 3-0 Netherlands. Blah blah blah. Zero was the only number predicted for Costa Rica in every preview I read/listened to prior to kick-off. Costa Rica were given little to no chance of winning let alone even competing with the Dutch. Of course, these were all the same "experts" who wrote off Costa Rica in every previous game too. Of which, Costa Rica. Won. All.
For all the speedy firepower of the Dutch these people were banking on, it was equaled by the stalwarth Costa Rica defense led by (must be) Golden Glove front-runner Navas. Costa Rica's biggest fan Sister Aracelly Salazar said it best before the game, "When I think about David vs Goliath, today we are that small country that's fighting against the giants." And it took 120 minutes, the referee, penalties, sketchy Dutch penalty etiquette, and luck for the giants to see this game through. And even then, just barely.
Netherlands: Van Persie, Robben, Sneijder, Kuyt (P)
Costa Rica: Borges, Gonzalez, Bolanos (P)
Lineups
Netherlands: Kuyt, de Vrij, Martins Indi, Depay, Vlaar, Cillessen, Blind, van Persie (C), Sneijder, Wijnaldum, Robben
Costa Rica: Navas, Ruiz, Díaz, Borges, González, Campbell, Umaña, Acosta, Tejeda, Gamboa, Bolaños
FIFA Man of the Match: Navas, CRC (one last time)
HB&HB Headband of the Match: Bolaños, CRC (one last time)
Pre-Game
First Half
Captains started us off with the standard anti-discrimination speech. I'd venture to guess no one is really listening anymore. If people don't get the message by now, they never will. Cases in point, Brazil-Mexico fans, England fans, Italian fans, German fans, and Brazil fans.
Another passionate display of shoulder-gripping by the players during the national anthem sing-alongs, gift exchange, photo op, coin toss, and kick-off on the last quarterfinal game of this World Cup!
It took almost 4' before a foul was committed in this game. I applaud the restraint; normally that '4' is a '1' for a game involving a group D team. No lie. The foul was by de Vrij, by the way, whose trailing leg brought down Bolaños.
The resulting free-kick was floated into the box by Bolaños but Campbell just couldn't get to it. Netherlands leisurely moved the ball around their end for a bit, all La Roja-style, then came forward on the attack trying to pin the Costa Rica defense back.
Robben got the ball but was tackled beautifully by Gamboa at 6′. Borges claimed the ball, shipped it up to Campbell on the wing, who tamely fed it through the middle for Ruiz who couldn't get control of it.
Back came the Dutch, with Depay attempting a cross to van Persie but put just too much on it. Costa Rica shoveled a long ball up the left for Bolaños and Díaz to chase but it went out of play. Robben decided to do a classic Robben run down the right, bypassing Díaz but he was halted by González who cleared behind for the first corner of the game at 8′.
Another good chance for Costa Rica at 12′, with Gamboa driving down the right past Blind and Martins Indi before firing a cross into the penalty area. Campbell was just ahead of the pass though and Vlaar was able to clear. Some speedy action from both teams up to this point but not much happening in terms of testing the goalkeepers at either end.
Bolaños with Tejeda moved forward on the left, but lost the ball yet again trying to find Campbell. Netherlands looked to break with van Persie and Depay at 14′. However, a well-timed tackle from Acosta on Depay stopped the play soundly.
Costa Rica started to enjoy a bit more possession by 16′, first benefiting from a de Vrij giveaway just outside the Dutch penalty area. Borges swooped in on the ball but Wijnaldum was able to block him from taking a shot. Then Ruiz and Campbell combined to send Gamboa in behind Blind, who was able to clear in time.
The first real scoring chance came at 21' (!) on a Dutch counterattack (!). Robben passed to Kuyt on the overlap. He then crossed to Depay who passed it to van Persie 10 yards from the goal. Navas rushed the play and managed to block the shot. The rebound dropped to Sneijder who looked for an opening then fired his shot straight at Navas.
Sneijder tried to send Depay through right after but Depay was flagged for offside. Díaz lost the ball just inside the Costa Rica end to Robben, which set-up a great play for the Dutch at 25′. Fortunately for Costa Rica, van Persie was flagged for offside by the time Kuyt got the pass through to him.
Costa Rica produced another good chance–for themselves, that is–at 28′, winning a free-kick after Ruiz was fouled by Sneijder. Borges rose to meet the Bolaños cross but he just couldn't get his head to it, what with Martins Indi all up in his business.
Depay got his first chance on goal at 29′, breaking down the left thanks to a giveaway by Ruiz. He sent his shot towards the near post where Navas used his go-go-gadget leg and made the necessary save. Costa Rica went on counter right after but a handball by Campbell snuffed the play quickly.
Blind fumbled another Dutch clearance, with Acosta chasing but he was fouled from behind by van Persie in the process. Bolaños' free-kick attempt was easily claimed by Cillessen off his line.
Costa Rica won another free-kick through a foul on Borges at 33′, which Bolaños sent to the far post. Borges was there to head it back into the box but an ambitious overhead kick by Acosta was cleared away by van Persie.
Back came the Dutch via Robben. Campbell attempted a tackle from behind, missed, so Robben decided to tumble over Gamboa instead. And thus began the jeers and taunts for the Oranje #11 in the stadium and on social media. Dive or no dive?
Referee said no. Robben took the resulting free-kick and his attempt barely made it as far as the wall. Pitiful. Or karma? Another counterattack, and again Robben was down in the Costa Rica end, arms and hands flailing. Dive or no dive?
The stadium crowd seemed to think he did. People on social media seemed to think so too. The referee not so much, and handed Díaz the first yellow card of the game at 37′. Ah well, it had to happen sometime. Perhaps if Robben didn't look so guilty all the time people would lighten up…nahhh, can't even convince myself on this point.
Sneijder stepped up for the free-kick, sending the ball over the wall to the far post. Navas got his magical hand out and sent the ball behind for a corner. Now that is how you take a free-kick, and that is how you save a free-kick.
Never gets old, does it? You'd think I'd be tired of watching Navas by now but just the opposite; I still marvel at how he (and Ochoa and Howard) does what he does. Depay tried to show us what he does shortly thereafter and, well, he had an amusing 'swing and a miss' moment instead.
The Dutch then engaged in a few minutes of nonchalant passing, which was kindly narrated by the boos of the crowd. Unimpressed were those people with the slow pace of the game. Me too, but I didn't splash any cash to see this game live so 'meh'.
At 42′ Robben pivoted a great pass to van Persie only to see Navas rush off his line and smother it before the forward could get to it. This would not be a great night for the forward.
Depay tried a similar move right after, playing in van Persie to the same area but Umaña was able to snuff out the pass. By sort of tripping over van Persie's foot. Hey, whatever works.
One minute of stoppage time. Whistle blown. End of the half.
Second Half
The game was a cagey affair up to this point. Both teams were dangerous on the break but neither could finish the chances presented. However, as all the statisticians were pointing out, 14 of the 17 goals scored by these two teams came in the second half. One could only hope at this point.
The second half kicked off with Bolaños fouling Robben at 46′. Robben took the free-kick which amounted to nothing except Bolaños attempting to capitalize with a run down the left. A long throw-in by Gamboa saw Campbell chest the ball down for Tejeda. However, the ball was not playing nicely and Tejeda couldn't take advantage.
At 52′, Umaña won a yellow card for a foul on Robben near the Costa Rica box. Robben took the free-kick, sliding the ball to Sneijder who sent his shot high and wide. I'd say Netherlands do much better with Robben just winning the fouls, and not taking the free-kicks.
The next Dutch opportunity fell to van Persie, who Robben tried to feed in behind the defense. González was there though to reduce the angle and turn the ball out of play for a corner.
Díaz was able to break down the left side at 60′, helped by Bolaños who cut a cross into the box. Martins Indi had other plans, and used his chest to take down the ball's intended target Campbell before he could do anything with it. No penalty and no free-kick.
Campbell was taken out again at 62′, this time by de Vrij. A free-kick was awarded, but Bolaños could only send the ball over the goal. At 64′ Martins Indi fouled Ruiz and received the yellow card he probably should have received a few minutes earlier.
Bolaños again took the free-kick, which he floated to the back post for González. He managed to get his head on it but the ball went out for a goal-kick thanks to Vlaar's interference.
Costa Rica made the first substitution of the game at 66′, bringing on forward Urena for Campbell. Urena's first touch released Gamboa who passed to Díaz. He could only send the ball straight at Cillessen unfortunately.
The Dutch were on the counter again at 68′, with Robben playing a bouncing pass to van Persie but Tejeda was there to block it. Robben took the resulting corner, sending the ball to Blind who was out-jumped to the ball by Gamboa. Gamboa awkwardly came down on his right leg and had to be stretched off the pitch for treatment.
Urena set-up another great chance, passing to Bolaños who made the wrong decision to pass back rather than take a shot. Gamboa, seemingly feeling no ill effects from the earlier collision, then decided to go feet first for a ball and managed to smack Blind in the back of the head. These two, a physical battle all game.
Sneijder wisely took the awarded free-kick and curled the ball in to Vlaar who could only send it into the stands. Netherlands made their first substitution, removing Depay for forward Lens at 76′. Gamboa was the next substitution, carried off again on a stretcher at 79′ and replaced by defender Myrie.
González with another challenge on Robben earned him a yellow card at 81′. Dive or no dive? Yeah, I'm with González on this one.
That card meant González would be out of the semi-final, if Costa Rica made it through.
Another terrific free-kick by Sneijder at 82′, placed expertly over the wall only to be denied by the woodwork. KAPOW! The ball rebounded in front of the goal but Vlaar couldn't get to it.
If only the heavens could help you, Wes; Costa Rica has all that locked down thanks to Sister Salazar. Costa Rica conceded another free-kick at 84′, which Robben took it. González was able to head it away but only as far as van Persie in the penalty area. He unleashed a shot straight at Navas who managed to get his hands and head to it.
At 88′, Sneijder sent in a perfect cross to van Persie who somehow flubbed his lines and tapped the ball in the wrong direction. Perhaps the best wasted opportunity of the game.
Four minutes of added time.
Díaz was a lucky boy at 90+1′ when he stuck out his leg which Robben happily fell over. That move would have likely earned Díaz a yellow card in any other game but thankfully not this time. van Persie took the resulting free-kick which Navas punched out only as far as Blind.
He fired a cross into the box where de Vrij, Kuyt, and Vlaar all missed before van Persie got on the end of it. And then this happened.
HUH? Whaaaaaaat? Think there was a world-wide sharp intake of breath there. We've seen some incredible goal line saves this World Cup but that little calamity may top them all.
Whistle blown. End of the second half and into extra time.
Extra Time
Second game in a row for Costa Rica heading into extra time. And they still had not registered a single shot on goal by this time. Navas, assisted by some poor finishing by the Dutch, were keeping this game going.
Netherlands won a corner at 93′. Robben sent the cross to Vlaar who headed it well but Navas tipped it behind the goal.
Another corner kick, this time taken by Sneijder. Navas came out to collect, collided with Kuyt, and went down holding his knee.
Heart in the throat moment there, but Navas was okay to continue. Costa Rica made their last change at 97′, with Tejeda coming off for midfielder Cubero. Hope that boy was blessed by the team when he hit the bench, and not just for running 12km in the game.
At 97′ Urena and Vlaar came together in the Netherlands penalty area. Penalty or no? Rio Ferdinand and Alan Shearer said "stonewall penalty". Referee said no, and play continued on. My thought? Who am I to disagree with Rio? On this point, anyway.
Martins Indi decided to throw in an off-the-ball play to take out Ruiz at 101′. Lucky for him the referee didn't see it, as it was definitely a yellow card incident. Well, maybe if it had been another referee, in another game. The prototypical "rough and tumble" Dutch game was kicking into high gear now. If you can't out-finesse then out-muscle.
Robben won a free-kick at 104′, which he insisted on taking. Kick went right into the wall. Step away from the free-kicks, Robben.
First half of extra time over. Costa Rica still had not registered a shot on target.
At 106′, the Dutch made their second substitution bringing on forward Huntelaar for Martins Indi. All the Costa Rica players folded their arms in front of their chests for protection. No, not really. But how funny would it have been if they had?
Another player collision at 107′, this time it was Robben and Acosta coming together in a clash of chests and heads. Acosta received a yellow card for the incident.
At 111′ Huntelaar decided to rearrange Navas' face with his hand and rightfully received a yellow card for the effort. You can't do that accidentally. Can you? Navas received some treatment and was good to proceed.
Costa Rica created a great chance via Bolanos right after, who sidestepped his way into the Dutch penalty area and forced de Vrij into a last second block. Then Urena got Costa Rica's first shot on target at 117′. Hooray!
Off went the Dutch on the counter, but Robben's long-range shot was blocked. There really was no way through the Costa Rica defense for him today. And then this happened for Sneijder at 119′. KAPOW #2!
Robben scooped up the rebound but sent his shot directly at van Persie. Guess those two haven't yet perfected the "butt assist" play.
Final Netherlands substitution at 120′ with goalkeeper Krul for Cillessen. Some called this move "genius". I called it another reason why extra-time substitutions should be banned except for injuries.
One minute of extra, extra time. Whistle blown. On to the penalty shootout.
Penalties
And here we go:
3-4 on penalties. Victory to Netherlands and a trip to the semi-finals!
Now, that's just plain cold Krul.
Welllll, okay, I get behind these sentiments (mostly). Especially given the smack talk he was feeding the Costa Rica players before they took their penalty kicks.
But it wouldn't be a Netherlands game if something skeptical didn't go down. Am I right? It really is a tale of two teams when watching the Dutch play. There are the van Persies and Sneijders who play to play fair, and do display respect for their opponents even when they are in "kill mode." Then there are the Martins Indis, Vlaars, and Robbens who will lapse into moments of theatrics and dirty pool when players don't just give in to their perceived awesomeness. And this usually happens when they have underestimated their opponents and are backed into a corner, as they were with Chile, Mexico, and Costa Rica. I guess we should just be grateful they don't resort to biting people.
Regardless of Krul's sad manipulation attempts, it was great to see Sneijder feeding off the pressure and getting those free-kicks in play. van Persie was getting in the right positions, getting the plays setup but all great forwards get stymied from time-to-time by equally great goalkeepers. It will be interesting to see how he and the rest of the team fare against Argentina.
As for Costa Rica, what a ride it has been! By drawing in regulation time, Costa Rica became the second CONCACAF team to go undefeated at the World Cup (Mexico, 1986). Incredible!
They stuck to their game plan once more here, keeping their defensive shape throughout and doing what needed to be done. Similar to the game against Greece though, they just couldn't get the attacks flowing well enough in the final third to make their attempts count. Bolaños and Borges had a great game, along with Navas and the entire back five. The future looks so bright for these players and the national team, especially when you consider that the oldest player at the moment is just 30.
And on one last note, I read many comments after the game where people were saying Costa Rica didn't deserve to go through to the semi-final. Let me just say this: a team just needs one opening and one goal to win. Doesn't matter how many attacking plays, how many shots on/off target, how much possession, how many passes, tackles, or dives. One chance, one goal. And whoever can capitalize gets the win. Neither team deserved the win more than the other here, and so neither truly did.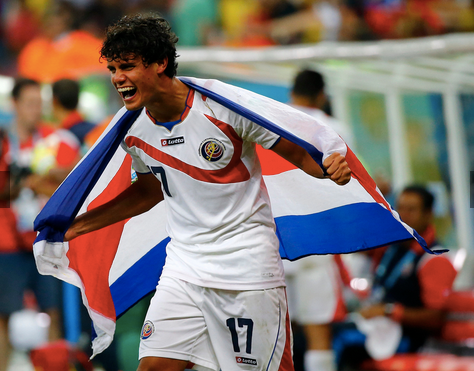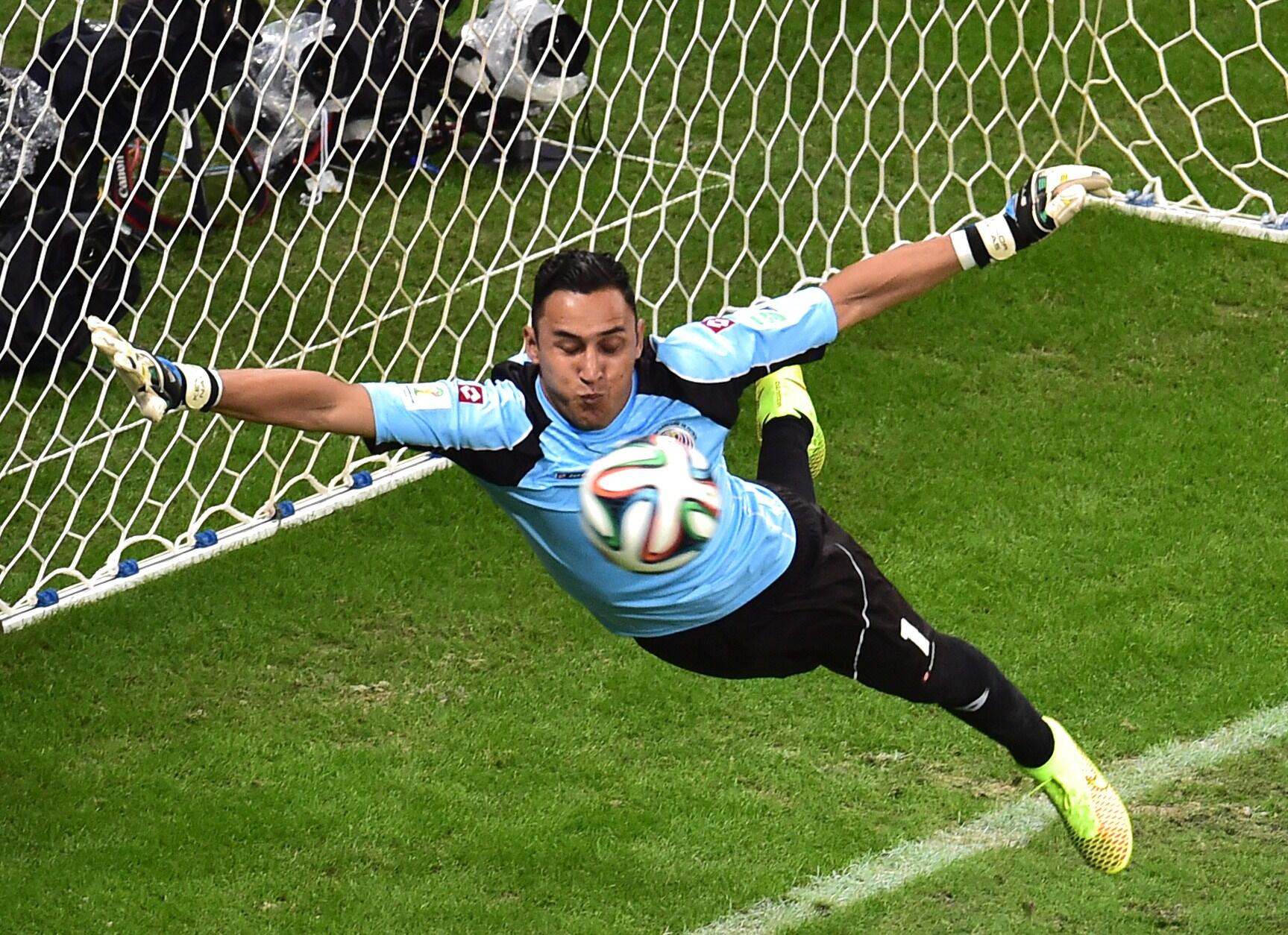 – hopechaser (twitter: hopechaser11)