Becoming bored with the pre-season club friendlies? Unnecessarily stressed over all the transfer hijinks happening overseas? How about taking a break from all that, and spend some time with the young women participating in the U-20 Women's World Cup this summer.
Between August 5 – 24, Canada is hosting 16 countries across four provinces for this World Cup. It is our second time leading this event, having hosted the inaugural edition back in 2002. This tournament is the run-up to the Women's World Cup in 2015, which Canada will also be hosting (mark June 6 – July 5 on your calendars!).
Living in one of the host cities, I am lucky in that the event is being relatively well-covered here. Talking with a friend in the USA this weekend revealed she is not so lucky. She wasn't even aware it was happening. That revelation made me a bit sad and a bit mad that there isn't more media coverage everywhere.
So in response to my friend's "no luck", I've pulled together a mini-preview on the tournament in case there are others out there who would be interested if they had some or more information.
Group A
This is possibly the most wide open group of them all. Past winners North Korea will be looking to make it through to at least the semi-finals to re-capture some of their prior glory. Canada is fielding a team partially composed of youth players who have already been capped numerous times at the senior level. This is in the hopes of at least equaling their second place finish back in 2002.
Teams: Canada, Ghana, Finland, and North Korea
Location: Toronto, where the teams will play at the National Soccer Stadium (renamed from BMO Field for the tournament). This was also the home stadium for the 2007 Men's U-20 World Cup.
Group B
If there was one group to watch, this may just be it. It certainly is the toughest group of contenders within the tournament. Additionally, the United States and Germany are ranked 1 and 2 respectively at the senior women's level presently and a battle royale is expected to occur when the juniors meet here.
Teams: Germany, United States, China PR, and Brazil
Location: Edmonton, with teams playing at Commonwealth Stadium. Back in 2002, this stadium set the record for hosting the largest audience ever for a women's youth football game, at just under 50,000 for the final between Canada and USA.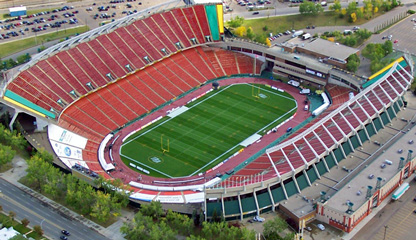 Group C
England have been progressing well over the past few years, thanks to increased investment in women's club and international teams there. They are looking to put in good performances in anticipation of 2015. For Nigeria, it was originally thought the team would not be able to participate after the Nigeria Football Federation (NFF) was suspended from international competitions by FIFA in early July. Thankfully FIFA revoked the suspension on July 17, allowing the women to travel to Canada for the tournament.
Teams: England, South Korea, Mexico, and Nigeria
Location: Moncton, with teams playing at Moncton Stadium. The stadium is part of the Universite de Moncton and is the home of the Aigles Bleu(e)s men's and women's soccer programs.
Group D
Costa Rica comes into the competition having just hosted the U-17 Women's World Cup this past March. They didn't do too well at that tournament so Las Ticas will be looking for some redemption here. Paraguay was a surprise qualifier and they could pose an upset in the group and the tournament.
Teams: New Zealand, Paraguay, France, and Costa Rica
Location: Montreal, with teams playing at Olympic Stadium. The stadium was the locale for the 1976 Summer Olympics, and has hosted a variety of Canadian football, baseball, soccer, and entertainment events since then.
All the teams will play in at least one other city than their host during the tournament. Each city will host one quarter-final game, with Montreal and Moncton hosting the semi-finals. The third place play-off and the final game will be played August 24 at Olympic Stadium in Montreal. Check the full match listing for additional details.
For those in Canada, CBC will be covering the matches along with SportsNet. This coverage will be available in numerous other countries as well. ESPN will be providing coverage for the US and related outlets; a listing of their preliminary broadcast schedule is located here. FIFA has a listing of the media rights licensees by country to assist in locating regional provider(s) as well.
As for social media, you can follow along via the official Twitter (hashtag #U20WWC), Facebook, and/or YouTube accounts.
Many of these players will be popping up at next year's World Cup so think of the tournament as an extended preview of what may transpire less than 300 days from now. Marta, Christine Sinclair, Sydney Leroux, and Alexandra Popp all had outstanding turns at this tournament in the past before blazing steadforth onto the senior level. It will be exciting to see who will be the breakout star(s) of 2014 and possibly 2015.
Oh, and one last item: I'd like to hear from anyone who might be watching and/or following the tournament. Depending on time requirements for work and volunteer shifts and life in general, I may do a few update posts throughout the competition should there be interest.
-hopechaser