And so it is written. The stuffed turtle key chain named Myrtle was right. As stuffed turtle key chains tend to be, ya know. England for the win. God Save the Queen. Yada yada yada. I'm happy for England, I really am. Just not as happy as I would have been if Canada had won. You understand.
England: Taylor, 11′; Bronze, 14′
Canada: Sinclair, 42′
Lineups
England: Bassett (52′, Chamberlain), Bronze, Chapman, J. Scott, Houghton, Bardsley, Moore, Taylor, Williams (79′, White), Rafferty, Carney (90'+3, Stoney)
Canada: Buchanan, Tancredi (71′, Leon), Schmidt, Lawrence, Chapman, Sesselmann, Sinclair, Wilkinson (62′, Matheson) ), McLeod, Scott (77′, Kyle), Belanger
LYG Player of the Match: Houghton, ENG
Hb&Hb Headband of the Match: Sinclair, CAN
Attendance: 54,027
Location: BC Place, Vancouver
Referee: Claudia Umpierrez, URU
Pre-Game
Game Highlights
8′. Key moment of the match. Byline pass by Schmidt to Sinclair who nutmegged Bassett and hefted a brilliant cross to Tancredi.

Ignore the finish. If this had gone in, or had even been on target…well…
9′. Oooooooooo…so not a place you want cleats.

11′. Banana peel moment for Sesselmann. Superbly capitalized on by Taylor.

Brave tries by Chapman and Buchanan to try and cover but they had no chance. It actually looked like it took a bit of a deflection off Buchanan's boot. Speaking of Buchanan, she was piiiiisssssed.
Meanwhile, a Football Fern was enjoying immensely.
Yeah, how do you like them now? Assholes.
14′. Free kick conceded by [fillintheblankyouknowthename], another slip, and England up by two.

I felt so incredibly sorry for Chapman. One of the unsung heroes throughout the tournament for Canada. Oh, and also, this:
28′. England tried at the far post again. Fool McLeod once…

42′. Sinclair. Captain Canada. "On that like a kitten on yarn."

I know I've been critical of Sinclair, but not because I don't think her a fantastic player. Quite the contrary. It's just that Herdman's tactical limitations don't allow her to exploit her best assets: the final distribution and the goal poaching. And she lets him limit her. This drives me bonkers. Abso-fucking-lutey bonkers.
On to the second half.
49′. Something odd was afoot with England's goalkeeper Bardsley. Or a-eye. She had to be subbed off when her eye starting swelling quite rapidly.

Word from the England camp is she suffered an allergic reaction but they don't know for sure yet.
55′. Why use your whole hand to save a shot when just a couple fingers will do.

62′. Matheson. The player we Canadians had been begging for finally made an appearance. Our midfielder with the mostest.
No pressure for someone who hadn't played for 8 months. Then again, she is a big game player. But still an odd substitution. I was conflicted, in a good way. As good Canadians often are.
67′. This little tete-a-tete between Tancredi and Bronze still makes me smile.

Refs don't like being told they're doing a shitty job, Tanc. But good try. BTW, new hashtag for ya'll: #BronzeAge.
Lots more back and forth. Forth and back. Back and forth.
Woohoo!
Greatest (Canadian) female hockey player ever offering advice. Appreciated the sentiment, but, uh, no.
Then it was time for the dance of English joy.

Game Photos
Post-Game
https://instagram.com/p/4eGsuMmTsp/?taken-by=eniinstagram
Canadian team after the game to sign autographs and take pictures with fans. Class.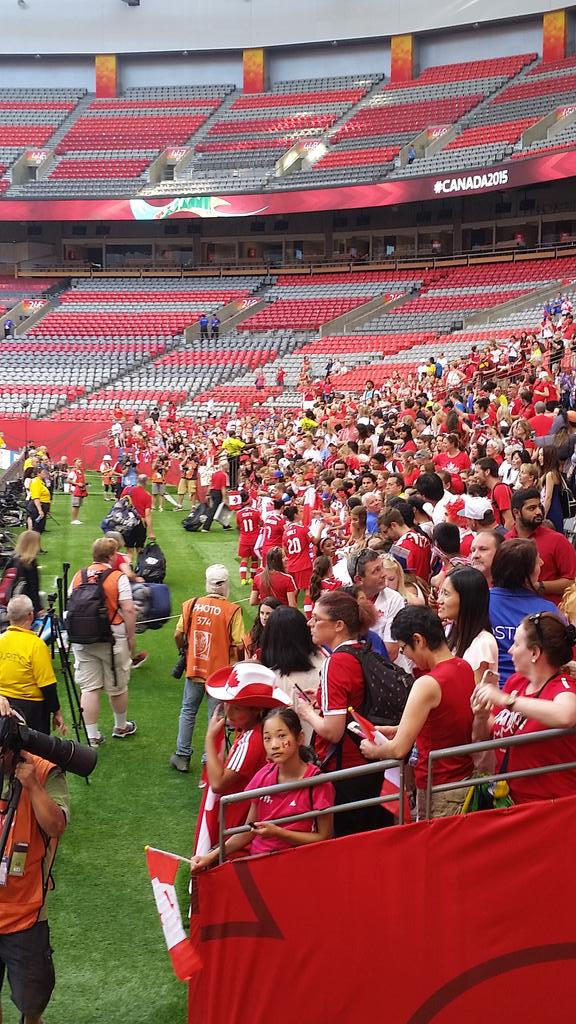 Quotes
It's not how we imagined it all to end. You win this game and you hope to go all the way through. Congratulations to Mark (Sampson), and his team, and they were very hard to break down. I'm just disappointed for all of Canada. We had good shape and good rhythm, but this is football at this level. The players can be proud walking out of here tonight. I can guarantee those fans that we gave our best, but our best just wasn't quite good enough.
To get a result in that atmosphere against an incredible Canada team was an amazing result. I'm really proud of women's football today, with a sell-out crowd. I have never experienced a crowd like that before. We are only the third England team to reach a semi-final, after the 66 and 90 teams. This team has shown incredible character and resilience throughout the tournament. These two (knockout) games have been about staying in games and getting results. It was pretty darn tense on the sideline. Credit to John (Herdman) and Canada, they made us fight for every single ball.
Final and Random Thoughts
It happened. The crack which was evident the first game finally split the defense completely. It is difficult not to place blame. Like, really difficult. But I won't. Truth is, both teams made major defensive errors. England just happened to capitalize on Canada's one more than Canada were able to on England's. Such is the game. Such is life.
It is fitting Sinclair scored Canada's first goal and last goal at this WWC. It is highly unlikely she'll play in France in 2019 but you never know. If this is indeed her last WWC, then let it be remembered she led Canada to its best-ever Women's World Cup finish. In her home country. As captain. Respect.
Amen.
Who will be back in 2019? Kadeisha Buchanan. She is an excellent candidate for taking over a team captain someday. Seeing her completely breakdown after the final whistle was harsh. At 19, she has many of these tournaments in her future. She was perhaps Canada's most consistent player throughout the tournament, and she demonstrated the Canadian WNT is in very capable hands going forward.
For England, they are off to their first ever semi-final appearance! Cracking!! It really shouldn't be a surprise to people they have made it this far. They are ranked 6th in the world. They are major player in women's football, even in the UK press has been quite dismissive of the team. They are solid all-around, and with players like Bronze and Houghton hitting their stride Japan are in for a fight during the semi-final. Go Lionesses!
– hopechaser