1-8-2. Beep. 1-8-2. Beep. 1-8-2. That's goal 182 in the record books for Christine Sinclair. And while she keeps deflecting and saying she's not keeping track or dwelling on it, here's how I think she should be celebrating: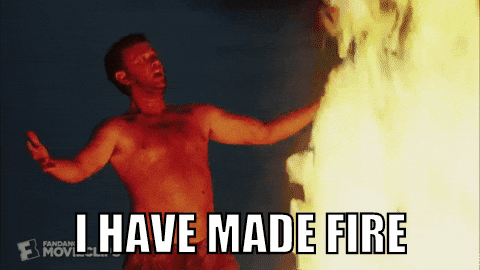 We keep being told here in Canada to not focus on the goal-scoring record for her but hell, how can you not? 182 international goals is insane. 185 will be insane-er. We all want it for her. We'll party like Canadians when she does get the record too and then be in bed by 10pm.
I kid. I kid.
Maybe when she does break it she'll get her own book, like Lieke Martens.
Embed from Getty Images
A girl can dream.
---
Pre-match festivities
Embed from Getty Images
Embed from Getty Images
Embed from Getty Images
Embed from Getty Images
---
Match overview
Netherlands
Embed from Getty Images
Canada
Embed from Getty Images
Location: Stade Auguste-Delaune, Reims
Embed from Getty Images
Referee: Stéphanie Frappart (France)
Embed from Getty Images
Embed from Getty Images
---
Match details
Boots. Kit. Eyeliner. Check!
Embed from Getty Images
The commentators just had to bring up that Canada has only won once v European competition in the World Cup. Like I or anyone else needed the verbal reminder that we are not European calibre in our play. The team will show us this on the field just fine.
Boom – two minutes in and Janine Beckie got past Desiree van Lunteren to nab a throughball. van Lunteren then clipped Beckie from behind and brought her down. Referee pointed immediately to the spot. Penalty to Canada!
Embed from Getty Images
VAR was on it though and whispered, "hey, come have a closer look. We have drinks and appetizers."
After looking at the monitor for a couple years – no penalty.
Embed from Getty Images
It was judged that the challenge happened outside the box so a free kick instead. Christine Sinclair stepped up and over the ball and sent it into the wall.
The record for the fastest penalty at a Women's World Cup was set in one of my previous recaps for a game I can't remember at the moment. This would have broken it. Instead, we have a record for the earliest penalty decision in a World Cup to be reversed. VAR is such a Snow. Or a Sand, depending on your Game of Thrones allegiances (I don't even watch GoT, how do I know this stuff?!)
Into the ninth minute and Vivianne Miedema popped up on the left side only to discover Kadeisha Buchanan and friend waiting to shut her down.
Beckie, looking a bit off-focus since the penalty-non-penalty, got down the wing and attempted a short pass to Sinclair but overhit it and chance wasted.
Shanice van de Sanden with the awesome hair piped in a low cross to Lieke Martens in the box but she slipped attempting to rein it in and Buchanan recovered the ball. MY NAME. IS. BUCHANAN! Raawwwrrr.
Embed from Getty Images
LOL – I'm so tired right now you have no idea. I have no idea. What I am writing?!
And why is Canada not moving the ball forward here? Why?? Sloppy passing sent the ball to Desiree Scott who passed it back to Stephanie Labbé and … why??
A burst of speed down the left and Beckie sent a great cross in deep towards the far post. Her teammates had agreed to meet at the near post. Pfffft.
Sophie Schmidt threaded a throughball for Jordyn Huitema who pulled away from van Dongen and sent a low shot straight through the legs of Sari van Veenendaal. Goal! No Goal! She was offside but was allowed to continue the play so assistant referees can shatter player confidence and dreams after the fact now.
Embed from Getty Images
Anouk Dekker was rewarded with the first yellow of the match after a late foul on Beckie. Guess the Netherlands have figured out they need to pay more attention to her.
Fleming was offered a gilt-edged chance right on the edge of the box but rushed the shot and off went the ball on a solo journey.
The twenty-seventh minute and Miedema was in one-on-one with Buchanan. Who do you think won this? K to the d to the sshhhhhhh. Inspired, Huitema took off and drafted two defenders before sending her shot wide. This is where I should tell you that Huitema is 18yo and just signed with PSG. Think Mbap-tema.
Netherlands were making some pretty and quick plays, fun to watch. van de Sanden tested Labbé who flailed somewhat comically resulting in a scramble in the box. Ultimately Canada were able to clear it. Desperately.
Embed from Getty Images
Having figured out that long balls could be the way to break Canada's defense, in came another. Allysha Chapman beat van de Sanden to the ball and touched it back to Labbé. She slipped then recovered. Uhhhh.
Miedema got a squared ball from van de Sanden, twisted away from Zadorsky like a hot knife through butter and pinged the ball off the far post. This is the point where I should tell you Miedema is only 22yo and just won the WSL with Chelsea. She, however, does not have her own book.
Buchanan picked up Canada's first yellow card after taking out Miedema who would have had a clear run through as Labbé was still struggling to get back on her line. This was a "do what you have to" card.
Embed from Getty Images
Lots of pace and possession for the Netherlands within forty minutes of play but lots of lost possession too.
Half-time: 0-0
The Netherlands were working it out from the back to start the second half. Like a predator slowly circling their prey. Dekker flashed a long ball over Canada's defense for Miedema but Buchanan was right there to nullify the challenge.
Canada had not yet picked up on the overpass tactic of the Netherlands. Or they didn't care. Not my problem to solve.
Free kick to the Netherlands and Dekker managed to get ahead of Buchanan and used her shoulder to loft the ball past Labbe. 1-0 Netherlands.
Embed from Getty Images
Embed from Getty Images
This lit a small fire under Canada and off Captain Sinclair went for a one-on-one with Captain van Veenendaal. Sincy put her shot too high but no matter. The AR was right there with the offside flag.
In the 60′ Ashley Lawrence crossed a beautiful ball in for Sinclair at the far post who emphatically put it … in the net. Netherlands 1 – Canada 1. Number 182.
Embed from Getty Images
Embed from Getty Images
van de Sanden again got into a dangerous spot on the wing and put a cross into the box. Zadorsky made a hash of the clearance but Labbé was there to collect the loose ball.
First, second, third, and fourth substitution of the day with goalscorer Sinclair heading off for Adriana Leon. Chapman went off as well for Jayde Riviera. Netherlands replaced Sherida Spitse with Jill Roord and Martens with Lineth Beerensteyn.
Umm. Both teams substituted strong attacking threats at the same time.
But what do I know? Leon got into the match right away meeting a cross from Jessie Fleming but just couldn't direct it on target.
Netherlands liked that idea so much they had van Lunteren send in a cross to Roord who passed it on for Beerensteyn to tap into the net. 2-1 Netherlands.
Embed from Getty Images
Embed from Getty Images
I was … displeased. What a shit show that was.
Bless Beckie though who wasn't giving up and slipped in again off a ball from Schmidt only to find her pass snuffed out by Dominique Bloodworth.
Canada were moving higher up the field now in search of an equalizer. Netherlands were clogging the midfield, as is their way, in response.
Five minutes of extra time. van de Sanden got the ball through and decided to have a go herself. She aimed for the top corner but sent it wide instead.
Riviera went for one final attack at the other end. She aimed for Huitema in the box but it was just too high for a connection.
Final score: Netherlands 2 – Canada 1
HB & HB Player of the Match: Shanice van de Sanden NLD
VISA Player of the Match: Christine Sinclair CAN
---
Final thoughts
The Netherlands looked so good out there. Much better than they were back in 2015 and they were good then. I actually get the tiniest bit nervous when I watch them play because I just don't know how it's going to go. For the other team. They have the technical proficiently now to be World Cup contenders, even if it didn't always show in this match.
Martens and Meidema get most of the attention for the team but van de Sanden is all kinds of powerful out there. Defensively they are okay in the way the US is okay – decent enough but not spectacular yet.
For Canada, there was a spark missing in this match and that's down more to the Netherlands commanding the midfield than the lineup. Schmidt wasn't particularly effective nor was Fleming as they just weren't creative enough to break through.
On the flip side, Canada's backline is functioning wonderfully. It is such a relief that Buchanan doesn't have to play two defender roles in this tournament unlike in 2015. Zadorsky still isn't as comfortable as the team needs so Buchanan does still need to have four eyes everywhere but you can tell there's a trust being built there.
I have to admit – I was and still am nervous having Labbé in the sticks. She just doesn't look sharp and that could be down to off field churn from the past year (will save rant for later). Hopefully this match was a wake call to her and she'll get her head in the game full stop.
Netherlands is off to the Round of 16 and will meet Japan. Canada will take on Sweden.
Embed from Getty Images
Embed from Getty Images
Embed from Getty Images
Embed from Getty Images
– Teri