We did not forget about Group E! I promise! I said I wouldn't cover any games unless Christine Sinclair scored. Reasonable. Why else am I here except to celebrate my home country and slight everyone else in their group?! Come on. I kid! You should know me better than that. I love and respect everyone.
But seriously – it takes a lot of time and effort to cover a World Cup and we are a small team. Sometimes people get waylaid by life and work and some things need to fall over board. It happens. Such was the case with Group E. But I'm coming in hot now like a super sub to get you all caught up and rain down some glitter on your patient behinds.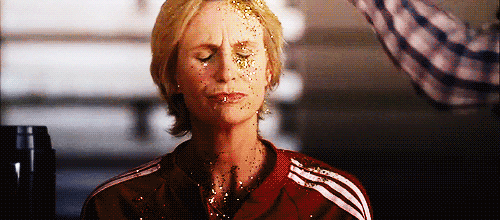 So hunker down – I'm doing quick and dirty recaps for the first four group matches in this group. The good news is you won't get much editorializing from me. The bad news is you won't get much editorializing from me.
---
Game 1: Canada v Cameroon
Location: Stade de la Mosson, Montpellier
Referee: Ri Hyang-ok (North Korea)
Canada
Embed from Getty Images
Cameroon
Embed from Getty Images
Squeeeeaaaakkkkk. That sound? Canada's bum sliding across the field to get this victory. Canada had lots of possession early on and Janine Beckie was showing her Manchester City influence by driving the attack forward again and again. Cameroon weathered the onslaught pretty well but couldn't get much going.
Nichelle Prince had a great chance near the end of the first half sending the ball in and seeing it ping off Yvonne Leuko before Annette Ndom threw herself at it. Own goal averted. Three minutes later Canada's defensive talisman Kadeisha Buchanan arrived late into the box for a corner and pounded a no-chance-rifle-shot of a header into the net. 1-0 Canada.
Embed from Getty Images
Cameroon were still in it. Claudine Meffometou nodded it just wide in the 70′. Their lack of cohesion as a playing unit was coming through at this point. They just couldn't thread the needle or crack the nut or pick your own analogy.
Christine Sinclair, in search of her first goal in France, thumped the ball just wide of goal around the 87th minute. It would have been so so pretty had it gone in. Two minutes of extra time and whistle.
Beckie and Prince were lively and bounced around all over which was fun to see. Canada aren't exactly known for their energy on the field, which is probably why the rest of the match was just dull when not focused on them. As for Cameroon, they have really just returned to the international stage and it showed here. They haven't coalesced enough as a group yet but there have powerful players like Gaëlle Enganamouit who can make a difference. Though, let's be honest. It almost doesn't matter what happens on the pitch when Cameroon supporters are around and boy were they around for this match!
Final score: Canada 1 – Cameroon 0
VISA Player of the Match: Kadeisha Buchanan CAD
Embed from Getty Images
Embed from Getty Images
---
Game 2: New Zealand v Netherlands
Location: Stade Océane, Le Havre
Referee: Edina Alves Batista (Brazil)
New Zealand
Embed from Getty Images
Netherlands
Embed from Getty Images
This was not to be a close match but what do pundits know? There was only a sliver edge of the field between these two teams the longer the match went on.
Netherlands came on full throttle, as is their want, and ran immediately into the tight defense of the Ferns led by Abby Erceg. New Zealand had the first chance of match thanks to, umm, Olivia Chance who smacked the crossbar from just outside the area. The Netherlands kept up their possession game without much to show for it.
Striker Sarah Gregorius had two good chances early in the second half. Vivianne Miedema was denied at close range by keeper Erin Nayler. Lieke Martens gave it a try a few moments later but drilled it over the net.
Embed from Getty Images
Nayler made a nifty reflex save on Miedema at close range about 65 minutes into the match. By this point Netherlands set up camp, instituted a government, and issued their own stamp within the New Zealand area. Yet they just couldn't get past the wall of defense that was in place around the goal.
Four minutes of extra time. It only took two for substitute Jill Roord to get on the end of a looping header from Lineth Beerensteyn and sent a down header into the net. 1-0 Netherlands.
Embed from Getty Images
Embed from Getty Images
120 seconds. That's all that was left in the match. But one lapse in concentration and the game turned on its head. How fair is football? Not very. Oh, and I never not want to hug every New Zealand player after every World Cup match. They grind so hard and just can't make it happen.
Final score: New Zealand 0 – Netherlands 1
VISA Player of the Match: Lieke Martens NLD
Embed from Getty Images
Embed from Getty Images
Embed from Getty Images
---
Game 3: Netherlands v Cameroon
Location: Stade du Hainaut, Valenciennes
Referee: Casey Reibelt (Australia)
Netherlands
Embed from Getty Images
Cameroon
Embed from Getty Images
I doubt that when this match started the Netherlands expected to have to labour to get a win. But labour they did just like Canada did in their match v Cameroon. I think it was a surprise to the thousands and thousands of Dutch fans in the stands though. The stadium looked like the inside of an orange (eek, not my best work there, sorry).
Netherlands started as they always do – offensive foot first. But it was Cameroon via Gabrielle Onguéné who got the first chance with a long range shot that just went wide in the twelfth minute.
Something happened between Onguéné and the Netherlands bench that I missed but seemed to be a big deal. Something about the throwing of water? Whatever it was, Onguéné was booed every time she touched the ball after that. I don't think she minded at all.
How Genevieve Mbeleck did not receive a red card for this challenge on Jackie Groenen I do not know. That's like a De Jong special via the World Cup 2014 final.
Embed from Getty Images
Breakthrough just before the half. Shanice van de Sanden found herself in some space and sent in a cross to an unmarked Vivianne Miedema who buried it. 1-0 Netherlands.
Embed from Getty Images
Then Onguéné went right back own the field and nabbed the equalizer two minutes later. 1-1.
Embed from Getty Images
Second half and the Netherlands quickly grabbed their second of day via Dominique Bloodworth who needed two tries to get it right. 2-1 Netherlands.
Embed from Getty Images
Embed from Getty Images
The boos continued for Onguéné. What happened with the bench?! And is that "We will rock you" I'm hearing in the stadium?
The Dutch looked tired as Cameroon kept searching for another equalizer. While they were doing that, Miedema popped up with five minutes to go and put the match to bed. 3-1 Netherlands.
Embed from Getty Images
This win confirmed a place for the Netherlands in the Round of 16. Groenen had a great match for the Dutch, roaming around the midfield and playing a role in the first two goals. Miedema grabbed two goals but she didn't look all the convincing. Cameroon showed their grit and their aggression and if they can somehow wrap this up in a sustained decisive attack they'll be dominant.
Final score: Netherlands 3 – Cameroon 1
VISA Player of the Match: Vivianne Miedema NLD
Embed from Getty Images
Embed from Getty Images
---
Game 4: Canada v New Zealand
Location: Stade des Alpes, Grenoble
Referee: Yoshimi Yamashita (Japan)
Canada
Embed from Getty Images
New Zealand
Embed from Getty Images
This was the battle of the defenses. Both Canada and New Zealand have strong centre back leaders in Abby Erceg and Kadeisha Buchanan respectively. Whoever could hold on the longest would take the victory.
Horrible moment fifteen minutes in. Catherine Bott blocked a cross from Janine Beckie and went down in a heap of pain. It looked from the replays that she may cracked and broken her hand or wrist. I would have flooded the field with my tears but she looked more shocked then anything as she left the field and headed down the tunnel.
Embed from Getty Images
Play resumed and Nichelle Prince sent in a header that was cleared off the line. New Zealand pretty much conceded Canada possession for the next half hour or so. Not that it mattered. Canada was not able to create much of anything from the open play.
Into the second half and finally a decent chance in the 48′. Prince surged forward and cut the ball back to Jessie Fleming who put it away. 1-0 Canada.
Embed from Getty Images
Christine Sinclair almost had a second right away but sent an easy shot over the bar. Getting to her first goal in France was taking some effort. Prince turned goal scorer with 11 minutes to go, pouncing on a rebound from a Sinclair header that came off the post. 2-0 Canada.
Embed from Getty Images
Any wind that was in New Zealand's sails disappeared after this. Both teams ran out the clock waiting for the final whistle.
Beckie and Prince were excellent for Canada. I tell no lie. When people ask me about Canada and I always say we don't score enough. We have this affectation for winning 1-0 or drawing. So the fact that we scored two good goals in this match was monumental.
Still no goal for New Zealand though. If goals were awarded for defending they'd be at the top of the list. But that's crazy and I knew it was as I wrote the sentence but I wrote in anyway. Sarah Gregorius cut a lonely figure out there; I'm not sure she got many touches if any. I loved seeing her back in the team and out on the field contributing whenever she could. And I can't say enough about Erceg. She's a dynamo and everyone in North Carolina knows it as she has racked up NWSL accolades for years.
ButI don't know what New Zealand need to do differently to get the break. Their attack has definitely stagnated despite having players like Hannah Wilkinson and Rosie White to call on. They've had a rough couple of years with lots of federation turmoil. Hopefully Tom Sermanni, who has only been in charge for a little while, will stick around and give the team the stability and drive they've been lacking. He did wonders for Australia years ago and they are just now reaping the rewards of his foundational work. Here's hoping New Zealand can level up their skills across the board in the next few years and prove they are world contenders.
Final score: Canada 2 – New Zealand 0
VISA Player of the Match: Jessie Fleming CAD
Embed from Getty Images
Embed from Getty Images
– Teri