Vive la USA! Congratulations to the USA for winning back to back World Cups and for winning their fourth title overall. Amazing records! Is America great again now?
Ahhhh – message received. Twice.
A little personal note before getting to the match –
This will be the last match recap you'll see from me in a good long while. And I don't mean days. Like maybe the Olympics or men's Euros next year. Or maybe not at all. And I will miss it. Not the late nights, scrolling through endless photos of the same thing, or the stress of getting these pieces down kinda on time. Hahaha, nope. But the energy and excitement of being able to witness and participate in all this football and cultural history. It's downright intoxicating.
On behalf of Lozil, ForzaSusan, and mygypsyspirit, I thank you for joining us on this wild ride. I hope we kept you informed and entertained as only we can all along the way.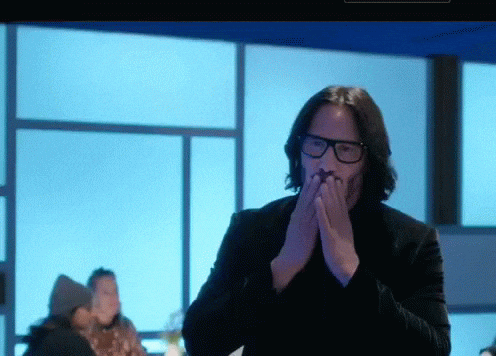 ---
Pre-match festivities
Embed from Getty Images
Well this is an … odd video before the match?
Embed from Getty Images
Embed from Getty Images
Embed from Getty Images
Embed from Getty Images
Embed from Getty Images
---
Match overview
Netherlands
Embed from Getty Images
Location: Parc Olympique Lyonnais, Décines-Charpieu
Embed from Getty Images
Referee: Stéphanie Frappart (France)
Embed from Getty Images
Embed from Getty Images
---
Match details
When the lineups were posted, they seemed normal and expected for me. These were about the best eleven each team could field today.
mygypsyspirit: Van de Sanden changed the match v Sweden. Don't get why she's benched
ForzaSusan: I'm wondering if they liked how much energy she brought in so will use her as a potential "super sub"
Having van de Sanden on the bench has been Sarina Weigman's approach for awhile now. I don't know if it's because she's thought of as a 'super sub' or if Weigment was still disappointed in her lack of finesse in the final third. Not really a worry for met though. Lineth Beerensteyn is wild with pace like van de Sanden but she's just less obvious which can make her more of a threat. But I will concede her hair and makeup game aren't as on point as van de Sanden's so we are missing out in this regard.
As for the USA, Lindsay Horan was starting on the bench which has been par for the course most of the tournament. I don't know why people were so up in arms on Twitter about it. Perhaps it's because a whole lot of them weren't paying attention in the previous matches? Jill Ellis is as predictable AF with her lineups and substitutions. Even when she goes for something unconventional it's still predictable.
But no matter now; time for the fun to begin! Here we go, here we go, here we go!
Embed from Getty Images
Future captain (perhaps) Rose Lavelle got the match started. Four minutes in and Alex Morgan was in her self-designated spot – down on the pitch. It was going to be that type of match for her, was it? Right.
ForzaSusan: If it weren't this early I'd suggest drinking after each Morgan dive
The Netherlands enjoyed quite a bit of possession in the early moments which was unsurprising. They're not really known as a counterattacking team.
On a positive note, the Dutch appeared to have gotten the message to NOT allow any silly fouls or more importantly goals in the first 12 minutes. That's a strategic leap ahead of other teams like *cough* England and France.
Andddddd, I spoke too soon. A slightly late challenge on Lavelle at the ten minute mark and the first yellow card of the match to Sherida Spitse for it.
Embed from Getty Images
Tobin Heath with the free kick that's best left at that. Julie Ertz then went in on Dominique Bloodworth studs up, changed her mind, then stepped on her foot anyway. No yellow card. Huh. HUH.
ForzaSusan: Ertz holds her hands like a TRex — really close to her chest
Embed from Getty Images
Lol, well, she's not wrong.
Netherlands managed a ball through to the USA box but Alyssa Naeher rushed out to nab it with Beerensteyn bearing down. Hahahah – I did not intend that reference but there it is.
Not exactly sure what Kelley O'Hara was thinking a couple minutes later when she made an illegal throw-in. Not that this mattered since the Netherlands gave the ball back right away.
Fifteen minutes in and no goals. OOOHHHHHH! The first danger zone had been successfully traversed by both teams. SUCCESS!
The USA sent in a long ball for Rapinoe who outburned Jackie Groenen (how?!) and sent in a cross that was blocked out by Desiree van Lunteren for a corner.
Embed from Getty Images
Ping pong ensued from the corner with the ball coming out to Lavelle who tried a cross but it was intercepted by Van Veenendaal.
Crystal Dunn then sent in a long pass for Sam Mewis forcing Van Veenendaal to back track and pluck it out of the air.
Embed from Getty Images
First good chance of the match at the 26th minute. A long ball from the Dutch split the USA centre-backs all too easily and Naeher had to race off her line to clear with Beerensteyn right there again.
mygypsyspirit: Holy shit Beerensteyn's fast
Yes, yes she is.
I support this message.
Van Veenendaal proved her want for the Golden Glove once again, making a great save on a short-range through traffic shot from Lavelle.
Ertz then with a chance inside the box off a corner but Van Veenendaal somehow managed to push it away.
The Netherlands tried a through ball for Beerensteyn who collided with Becky Sauerbrunn. The latter went down but was okay to go on.
Embed from Getty Images
Heath got down the left beating Bloodworth handily but couldn't do much after that. She's an interesting one for me, Heath. I never not know she's out there stirring things up but my expectations of her doing something noteworthy or amazing are very low. And she routinely doesn't jump over that bar. Anyhoo …
Abby Dahlkemper was almost dispossessed in her own area. I don't know that this was important but I wrote it down so I typed it here.
A long ball in for Morgan who ended up shoulder to shoulder with Bloodworth in the box. Guess who went down?
Embed from Getty Images
Embed from Getty Images
Embed from Getty Images
Referee saw nothing in this, and rightfully so, and awarded a corner and not the penalty a certain tv station was calling for. I wish I could find a good replay of this because I'm pretty sure Morgan did that 'slow down and position yourself for a foul thing' that players like her do.
Big double save time! Rapinoe sent in a low cross not once but twice. The first went in for a blonde ponytail and Van Veenendaal made the save.
Then Rapinoe tried a bunch of seconds later for Mewis and again Van Veenendaal with the save.
Were you chanting Golden Glove at this point? I may or may not have been.
Morgan tried a blast from about 25-ish yards out. No beating Van Veenendaal though as she got down and pushed it out for a corner.
Another yellow card, this time to Dahlkemper for tripping Beerensteyn on the counter. The free kick was taken by Spitse who sent it to the top of O'Hara's head and out. Weird strategy that.
Morgan ran into Jackie Groenen in the midfield then attempted to plead that it was Groenen in the wrong. Morgan is a blight on your team, peeps.
Two minutes of added time. O'Hara went up and in on Lieke Martens resulting in a head-to-head aerial collision that saw both players crumble to the field. Out rushed the medical teams to assess them. (Injury aside, should that not have been a yellow for O'Hara?)
Embed from Getty Images
Embed from Getty Images
Embed from Getty Images
mygypsyspirit: Oh god. That was bad
ForzaSusan: O'Hara doesn't look good
mygypsyspirit: She just rolled her eyes
Martens was up first and left the field of play as directed. O'Hara looked sorta okay, well, okay enough to argue with the referee about having to leave and come back on. I get it, the half is almost over and it's the World Cup final but did she really think the referee wasn't going to have both players go off?
ForzaSusan: This is going to sound weird but I worry about players sometimes with head injuries- so many cases where the desire to play overrides their health. I'm no doc so I'm sure the medic wouldn't.
mygypsyspirit: The desire to play overrides all logic. Even arguing with the ref. Especially in a final. You want to be part of every moment.
ForzaSusan: Yup — makes the medics job so vital
Back to the action and Miedema took off on her colt legs beating four defenders and sending in a cross that resulted in a corner. More corner-instigated ping ping action in the goal mouth but no goal.
Half-time: USA 0 – Netherlands 0
Rather fascinating half, right? The Dutch changed up their shape more than twice to adapt to the USA, with Beerensteyn popping up top for Miedema to follow in behind. That actually made sense on paper though this isolated Beerensteyn as Martens wasn't pushing herself into the play enough to offer support and capitalize on Miedema's positioning.
The USA were holding their own but not making much of their chances. Not that the Dutch were allowing them to do so.
Into the second half and we had the first substitution, with O'Hara coming off for Ali Krieger. Right decision there. Never take a chance when it comes to a head injury.
ForzaSusan: I worry about Krieger but I'm glad they pulled OHara after that collision
Having said this, Martens was still out there potentially playing with a toe and head injury now. Sooo, mmmm, maybe a wrong decision for the Netherlands?
All USA at the start with Rapinoe aiming the ball towards Ertz who could only head it wide.
Then it was Crystal Dunn's turn but she too went wide with her shot.
Into minute 54 and Sauerbrunn was down after a collision with Daniëlle van de Donk. Eeeh and there was blood from a cut above the eye. Double eeew. Off she went for treatment.
Embed from Getty Images
Embed from Getty Images
The Dutch tried another through ball for van de Donk but this time it was too far. Sauerbrunn was back on the field now with a black bandage to match her pink headband. Very sporty.
Embed from Getty Images
Two-thirds of the way through the match now and a challenge in the Netherlands box by Stefanie Van der Graght on Morgan while trying for the ball. Did anyone else groan when this happened?
A definite high boot but was there anything else in it? The ball was going out of play and Morgan wasn't trying to do anything with it. Oh, yup. The power of a different angle.
Embed from Getty Images
Embed from Getty Images
Embed from Getty Images
Embed from Getty Images
Embed from Getty Images
Embed from Getty Images
Is that a hint of smirk there in the last photo? It would surprise me not in the least.
mygypsyspirit: That a high boot. I don't want a penalty but it's a penalty
VAR saw something too and off the referee went to check the video.
Embed from Getty Images
I should probably insert something here about the Rules of the Game and such but I'm tired and well, would it matter? All that mattered was this –
Embed from Getty Images
A yellow card to van der Graght and a penalty to the USA. Sigh. Okay. Miedema got all fierce on the referee at this point which I wouldn't have thought she had it in her.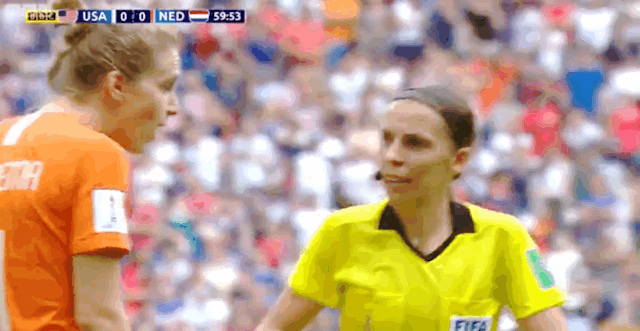 Up stepped Rapinoe because who else at this point? (Although if there was any kind of a discussion between her and Morgan let me know because you know the latter wanted to win the Golden Boot really bad.) 1-0 USA.
To the people who were coming at Van Veenendaal for not moving. She did. She started to go the wrong way then realized her error and set back to her starting position. I get it.
Oh, what's that sound I was hearing? A bunch of people clicking their remote to go watch something else. It's true! Even I wanted to turn it off and go about my day. Not that I didn't believe the Dutch could score but that penalties always leave a sour taste and the possibility of a match being decided by one or more is even worse.
ForzaSusan: I don't like penalties— I feel it's a lousy way to decide games
Agreed.
Miedema channelled her anger into her legs got past one, two, three, FOUR defenders AGAIN and then … SHOOT … and then … SHOOT … and then … SHOOT … and then … nothing.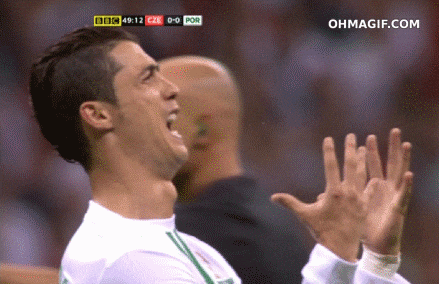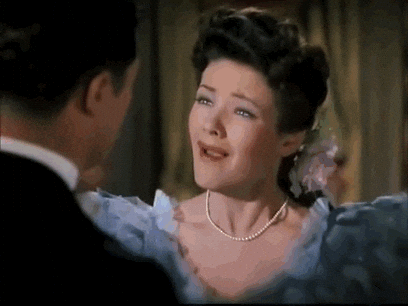 Was there anyone not yelling at her during these frantic seconds?!
Good news for mygypsyspirit as van de Sanden was shown warming up on the sidelines. Could she be the difference maker?
Maybe but not yet as Crystal Dunn made a fantastic tackle which gifted the ball to Mewis who passed it up to Lavelle who ran her way through and blasted the ball into the net. 2-0 USA.
Now that is a goal to win a match on. And soooo good for Lavelle. I've watched her try and try and try and try for so many matches and here she finally did it.
mygypsyspirit: Who is the male fox commentator?
forzasusan: JP Dellacamera
mygypsyspirit: He just sounded dumb founded that a woman could bend on the ball like that
forzasusan: I know 🤬
Heath went for her chance, blasting off down the right and beating a defender but couldn't figure out what to do before Spitse made the block. What was I saying earlier about low expectations?
First substitution for the Dutch, with Martens off for Jill Roord. A pretty good move though given Martens' toe injury perhaps this should have happened sooner.
A couple minutes later and van de Sanden entered the field for defender Anouk Dekker. A definite attacking move by the Netherlands.
Fifteen minutes to go. Beerensteyn took a shot from the edge of the USA box but Kreiger was able to cut the angle so Naeher could make the save.
Embed from Getty Images
Second USA substitution now with Rapinoe off for Christin Press. Fresh legs and all that.
Netherlands won a free kick which Spitse sent into the wall where it was deflected just wide of a diving Naeher. Damn that deflection!
Heath once again blasted away from everyone and dribbled into the area but couldn't do much. She tried again through the midfield, splitting the Dutch defenders and then went down in the box.
She shouted for a penalty and the referee retorted with "hahaha – you mean dive*" and awarded a free kick to the Netherlands. (*I don't really know what was said but yeah, that was dive-adjacent).
Embed from Getty Images
Three minutes of regular time left and the USA pulled off Heath for designated game killer Carli Lloyd. This was actually a bit late in the match for Lloyd but, as always, we all knew she was going to get in at some point.
Roord managed to run onto the ball on the edge of the area and sent it just wide. It was not looking good for the Dutch.
Five minutes of additional time. A lot of time wasting by the USA because why not? Not much else.
Final whistle.
Final score: USA 2 – Netherlands 0
HB & HB Player of the Match: Sari Van Veenendaal NED
VISA Player of the Match: Megan Rapinoe USA
---
Final thoughts from mygypsyspirit
I didn't go into the final with expectations. Well, that's a lie… I think the US are always favorites and if I expected anything, it was that they'd at least be tough to beat. I'm obviously ecstatic at the US win. How can I not be?!

Netherlands were so very organized on defense leading up to to the final. They held teams long enough for van de Sanden (can the new Real Madrid women's team steal her from Lyon?) to come in and inject some energy into the match, which swayed in Netherlands favor. And I was sure that strategy would at least cause the US some issues in pulling off a runaway victory.

Speaking of van de Sanden… I have to say I'm surprised she didn't start. I understand the tactic of not changing up the team too much, given that's what got you there. But given what she added to the matches, I would think you'd want that early against the US. I dunno… I've never claimed to be a tactical genius.

I still think that van Veenendaal is highly underrated keeper. She made her mistakes, of course but she also regularly makes stellar saves. She's tall, but she makes herself bigger. She's a force, for sure.

I thought Rapinoe looked a bit slow, which is sayin' something because she outran her defender more than once. I also think Tobin Heath is more dangerous than Rapinoe. I love her, but Tobin gives opponents more issues than Rapinoe does.

The number of head-to-head collisions was worrisome. We chatted about it for a minute. Specifically the O'Hara one. And while I'm all for monitoring the situation, and making sure they don't play if they're exhibiting concussion symptoms, I also understand O'Hara wanting to play on. She obviously was subbed at the half, but the reason you have the team docs and ref is because the players are SO driven to play. I don't necessarily fault O'Hara for arguing with the ref about it.

Oh hey… Alex Morgan dives a lot. I know this is not news. Although I do think it was a deserved penalty. A high boot is a high boot is a high boot. Does it suck? Yes. Do I hate deciding matches by any form of penalty kick? Yes. But I can't disagree with the call.

There was a moment, where Mediema beat 4 defenders and didn't shoot. I was absolutely screaming at her (which made a friend super confused, considering). Those were the types of moments that could have changed the match for Netherlands. I likened it to Arsenal trying to walk the ball into the net.

I have no words for Lavelle's shot for the winner. It was honestly fabulous. I didn't even realize it was her as I watched it. She may have that religious cult kid look, but she's absolutely fantastic. She had an amazing tournament. I think she was one of the better players for the US, tbh.
FYI – Miedema plays for Arsenal so, you know, club habits are hard to break. 😀
---
Final thoughts from forzasusan
1. Sari van Veenendaal – yea, yea, yea. She is fantastic and I hope she finds a club and fast. Fantastic.
2. Head collisions — eek — not surprised that O'Hara had concussion symptoms. She did not look right at all after the collision.
3. Very happy about Lavelle's goal and hope the US can keep her healthy — I'm hoping for good things for her.
4. Netherlands – great skill, kept the game tight…surprised they didn't start with van de Sanden. I'll be rooting for them in the future.
---
Final, final thoughts
I'd like to say I was shocked or surprised by the outcome but after watching the USA get past Spain, France, and England this was an expected outcome.
Netherlands just didn't have enough confidence or perhaps skill to actually finish out their plays. As with other teams, they looked like they were surprised to have gotten in behind the USA defense as easily as they did.
What they do have is pace and if they can just figure out how to harness it with better final third execution they'll be incredible.
They also have lots of youth. Meidema, Beerensteyn, and Roord are only 22 and Groenen and Bloodworth are just 24. The Dutch have yet to reach their Golden Generation status and they've already won a European Championship and made it to a World Cup final in just four years! Their progress has just been sensational to witness and there is still so much more to come!
As for the USA, well, they weren't the best team in the tournament but they got the job done. That's all that matters in the end. In a few of cases they were helped out along the way by other teams not doing their job. Hey there England! But are they still a powerhouse of women's football? A bit but are fading.
This was primarily an old guard team and they needed all of them to set these winning records. Nothing wrong with this but the success here does flatter to deceive. Their forwards are all 30+ with the exception of Mallory Pugh who only got a couple run-ins. The majority of the midfield core are heading into the sunset of their best playing years. Same with the defense. An old guard approach is not going to work as successfully in two years time let alone four on the international stage.
Lavelle and Horan are just hitting the peak of the careers and while they were flattering and exciting here who else is being developed for this level of play? We saw lots of youth with teams like Sweden, Germany, Spain, and even France who played important roles in team strategies. They gained experience which is invaluable and I wonder what the USA's plans are for the future.
But forget my musings. All that matters in the here and now is that the USA are World Cup champions again. And that is a pretty marvellous achievement to celebrate!!
Embed from Getty Images
Embed from Getty Images
Embed from Getty Images
Embed from Getty Images
– Teri