According to People En Español anyway, which has named James as their Sexist Man for 2014. Congratulations Daniela! 😉
Per the magazine (roughly translated),
On the football field, James Rodriguez consistently demonstrates his charisma with ball control. It was no different when it comes to posing for the cover of People in Spanish, which tops the list of "Sexiest Men" this year.

We spoke exclusively with Daniela Ospina, Colombian footballer's wife of 23 years and mother of his daughter Salome, 15 months.

"He's a very attractive man, very thorough, but what I like about him is his personality, his personality," said Ospina, 22. "It's what I really love."

Rodriguez became an idol in his country for his performance in the 2014 World Cup in Brazil, which also drew the attention of powerful Real Madrid. According to the Spanish press, the white club paid 80 million euros for his transfer from Monaco.

"He is still the same. What characterizes him most is humility," said his mother, Maria del Pilar Rubio, on her son, who has not been impressed by fame and lucrative contracts.

Although millions of people saw the player mourn after the loss to the Brazilians at the World Cup, Rodriguez showed a big smile for the photo shoot as People's Sexiest Man.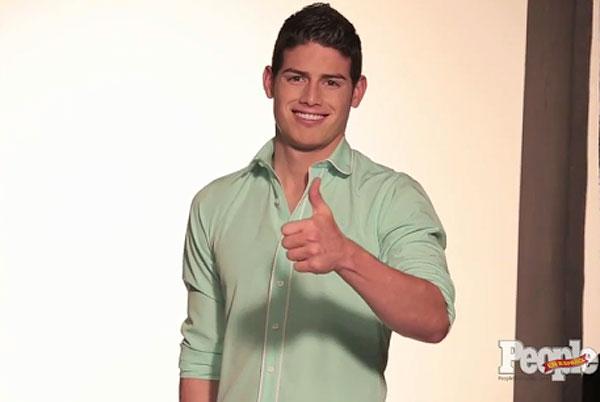 Ahhh, yes, a big smile and a requisite thumbs up. You can see both in action via this short behind-the-scenes video:

Anyone else curious to know if this honour was bestowed before or after the undies photoshoot?
-hopechaser