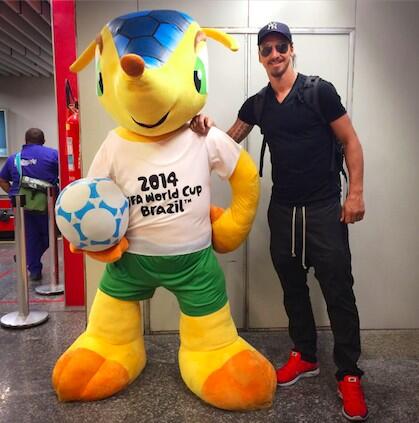 I repeat, Zlatan has arrived!
After the heartbreak of losing the WC play-off match vs Portugal in November 2013, Zlatan was quoted as saying, "One thing is for sure, a World Cup without me is nothing to watch."
Well, here he is on Wednesday watching the Spain vs Chile match at the Maracanã with his son Max.
And here they are again today, taking in the Uruguay vs England match in São Paulo. (And I see his other son Vincent sitting next to Maximilian. Hooray! I love Vincent with his little mohawk and hipster glasses  – Lozil)
There's been curiosity around whether or not he would show up after he made those comments. It's not just me, I swear! To convince him he should come, a group of high profile Brazilians created a video and online campaign back in May. Titled #VemIBra or "Come here, Ibra", the video is kinda charming in a low budget sort of way.
Ibra's response at the time?
France fans more recently got involved, displaying the following banner at the France vs Honduras game.
With all this love how could he not show up! I mean, who doesn't love Zlatan?!
Possibly fans of the United States National Team now.
Zlatan was in the United States promoting the English translation of his book "I Am Zlatan" leading up to the World Cup. While there he visited Alcatraz and thankfully someone snapped this inspired shot.
Then he did what Zlatan does best, stir up a little controversy.
Someone, please, put him and Balotelli in a room together and let the camera roll. Pure comedy gold.
– hopechaser (twitter: hopechaser11)